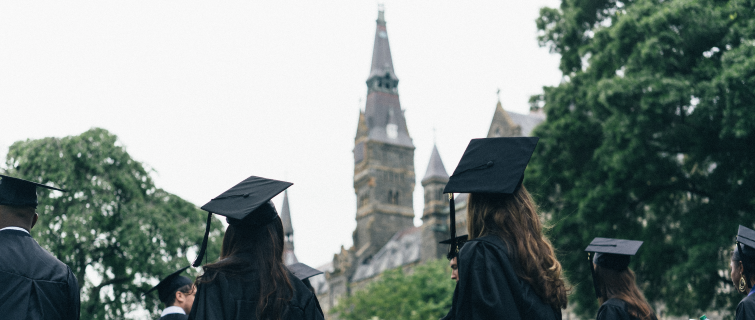 Washington, D.C.—In advancing its mission of making higher education accessible and affordable for more students, Georgetown University's School of Continuing Studies will partner with Coursera, a leading global online learning platform, in order to offer the Bachelor of Arts in Liberal Studies program fully online.
The Bachelor of Arts in Liberal Studies is a bachelor's completion program that offers an affordable, flexible way for adult learners to finish their degrees. The need for such a program is increasingly urgent: in the U.S. alone, more than 39 million students leave college without a degree. Black, Latino, and Native American students are overrepresented in this population.
The School of Continuing Studies' mission is to deliver a world-class, values-based education to a diverse array of communities and individuals throughout their academic and professional careers; to improve employability and develop workforces; and to contribute to building a civic-minded, well-informed, and globally aware society. Against the backdrop of national conversations on college affordability and access, the School is committed to increasing college completion; offering the B.A. in Liberal Studies program through Coursera is a quality solution which supports Georgetown's Jesuit values and mission.
Established in 1974, the high-quality, values-based, and professionally oriented bachelor's completion program is designed to help students of all backgrounds finish their degrees and unlock their earning potential. The degree's most recent on-campus cohort comprises 62% students of color and 40% military-connected learners. By partnering with Coursera, the School can extend this critical program to learners worldwide.
Because of the School's commitment to accessibility and college completion, the SCS bachelor's program does not require any application fee or deposit. Students can transfer up to 64 college credits, including military training, to their 120-credit degree. Each credit hour is offered at $400, which is 22% more affordable than the average online credit hour from privately ranked colleges.
"This decision is rooted in the School's existing pioneering culture of innovation, student-centered instructional design, diversity, and accessibility," says Kelly Otter, Ph.D., dean of the School of Continuing Studies. "By partnering with Coursera, Georgetown will be better able to serve a critically overlooked population of learners. Whether they are career changers, military-connected individuals, or those interested in later advanced degrees, this program empowers more students to finish their bachelor's—and transform their lives."
"We are honored to partner with Georgetown University, a leading U.S. institution known for producing mission-driven graduates from diverse backgrounds," said Betty Vandenbosch, Chief Content Officer at Coursera. "This affordable, accessible, and job-relevant degree completion program will help the growing population of students with some college credits but no degree. Earning a degree from a top university like Georgetown can transform students' earning potential, lives, families, and communities."
The program combines the best aspects of online learning, such as asynchronous courses taught by renowned Georgetown faculty, with support services crucial to student success, including academic advising. Students learn skills in communication, problem-solving, and critical thinking in core liberal studies courses and can then choose a job-relevant concentration, including business, communications, and international relations.
Nearly all, nine out of 10, employers view the skills taught in liberal studies programs to be important for success in the workforce. Graduates of this program significantly advance job levels, with 43% progressing to an executive or director level position. Alumni have secured positions at leading institutions in nearly every field, including the World Bank, American Express, the National League for Nursing, and the Department of Homeland Security.
Elaina Cohen, an alumna of the program and immigrant from Jamaica who founded two companies after graduating, said, "Georgetown completely transformed my worldview and my place in it. Its innovative program equipped me with essential skills crucial in today's business and professional domain." Said Bilani, who graduated from the program in 2020, said he gained a year of professional growth during each academic year. He went on to earn an M.A. at Georgetown, an M.Ed. at Harvard, and a coveted U.S. State Department fellowship.
The School of Continuing Studies is proud to partner with Coursera to empower students to complete their education. Earning a high-quality degree is a pivotal milestone that helps graduates advance their careers, better their lives, and transform their communities.
Applications for the Bachelor of Arts in Liberal Studies will open in early December 2022, with classes beginning in Summer 2023. To learn more and apply, visit the Coursera page.
###
About the Georgetown University School of Continuing Studies
Georgetown University's School of Continuing Studies offers graduate programs in professional and liberal studies, more than 30 professional certificate programs, custom and corporate training and education, summer school and special programs, as well as the University's only part-time bachelor's program. The School's innovative educational programming creates opportunities for students and professionals to connect with industry leaders through learning and service.
About Coursera
Coursera was launched in 2012 by two Stanford Computer Science professors, Andrew Ng and Daphne Koller, with a mission to provide universal access to world-class learning. It is now one of the largest online learning platforms in the world, with more than 113 million registered learners as of September 30, 2022. Coursera partners with 275+ leading university and industry partners to offer a broad catalog of content and credentials, including courses, Specializations, Professional Certificates, Guided Projects, and bachelor's and master's degrees. Institutions around the world use Coursera to upskill and reskill their employees, citizens, and students in fields such as data science, technology, and business. Coursera became a B Corp in February 2021.
Learn more