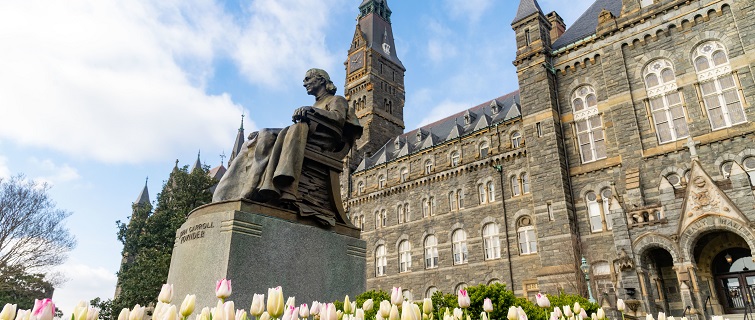 Our bravest moments are best defined when we decide to say "Yes" to ourselves. It is in these moments when we understand failure, defeat, and reinvention. When I first enrolled in the Bachelor of Arts in Liberal Studies completion program at Georgetown University's School of Continuing Studies in Fall 2008, I was a young, ambitious woman working in the academic field. I soon became a school's C-suite executive, managing marketing and student enrollment for North America and Europe. Yet, even with this success, I felt something was missing.
I attribute the genesis of my path to self-discovery to a course I took called Gandhi's India. It inspired my journey of restorative justice and compelled me to travel across the globe to advocate for victims of sexual abuse, systematic disparities over race and class, and academic inequalities.
Yet, after just two semesters, I hit a career milestone and was offered a leadership role in California that would help me support my family. As an immigrant from Jamaica, this was a priority. However, it also meant I had to withdraw from school. Before I left, my professors, like Dr. Paul Lewis, sowed the seeds of hope that I would one day complete my studies. This seed took root and in 2018, I prioritized myself and re-enrolled at GU.
As a non-traditional student, I intentionally returned to school to enhance my newfound interest in law. I faced many adversities that year, from unemployment to family illnesses. Despite it all, I had a faith that surmounted all understanding. The financial aid resources, faculty, and staff helped me develop an unstoppable momentum. Each course empowered a new discovery within me, helping to create a clear depiction of my goals. Georgetown offers a diversity of learning resources with a vibrant interactive academic community crucial to my personal and professional development.
Georgetown completely transformed my worldview and my place in it. My major in international relations was crucial in building a strong understanding of issues affecting our contemporary society, including poverty, educational disparities, poor governance, and discrimination in employment and career opportunities. Moreover, its innovative program equipped me with essential skills crucial in today's business and professional domains. Hence, my dream has been to develop solutions that promote equal social, economic, and political development.
I founded two companies: Fly Higher Ed, a study abroad academic concierge service, and Education Without Borders, a nonprofit organization formed on the efficacy of restorative justice through education. Through these organizations, I have dedicated my life to making education accessible and insubordinate to borders.
We'll never know our true capacity for victory if we don't say "Yes" to ourselves. Courage isn't a choice. Instead, it's something I learned to embody while I completed my bachelor's degree at Georgetown University, and it will continue to serve me throughout my life. Hoya Saxa will forever be my badge of honor!
Learn more