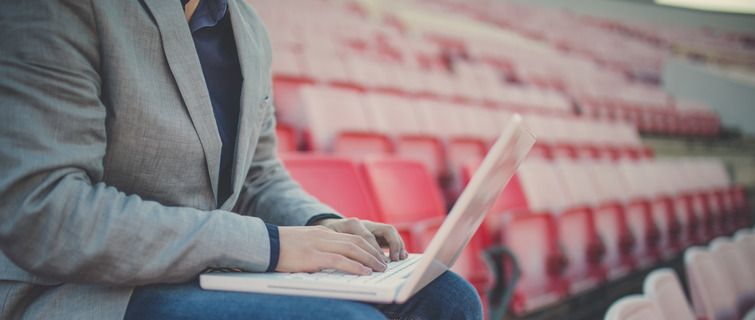 No disrespect to Ted Williams, but is hitting a baseball really the hardest thing to do in sports? Major League Baseball's last .400 hitter certainly knew what he was talking about when he made that claim in 1982. But then, he never had to return serve from Serena Williams (recorded at 128.6 mph in 2016); or cover LeBron James (average points per game: 27.2 over 20 years); or, for that matter, hit post-millennium pitching (93.9 mph for the average major league fastball in 2022, up from 91.3 in 2015).
There are two points here: first, with the vast variety of sports out there, it's nearly impossible to say which is the hardest. But the larger point is that sports—and athletes—are still evolving, with the latter becoming stronger, faster, quicker, and more agile than ever before.
And the business of sports? It's changing, too, in ways one might not have recognized just a few years ago. Sports are bigger, more "global," more popular now—and more lucrative. According to Statista, the North American sports market is expected to increase to $83 billion in 2023, up from $71 billion in 2018. Esports is also continuing to grow. And, according to Vantage Market Research, sports betting, valued at $74.2 billion globally in 2021, is expected to reach $129 billion by 2028. It all adds up to a burgeoning market sector that is going to need top managerial talent in the years to come.
Career Options for Sports Industry Management Graduates
Career options in Sports Industry Management are as varied as the diverse sports athletes pursue throughout the United States and the world.
Director of Business Development/Corporate Partnerships
The Director of Business Development and Corporate Partnerships supervises existing partnerships and sales strategy and explores new business opportunities. Responsibilities include building relationships with customers, partners, suppliers, and other key groups, and evaluating their effectiveness.
Director of Communications
The Director of Communications supervises a business or organization's messaging and communications strategy. Directors share promotional or informative materials with the public and are often involved with internal communications.
Director of Guest Services
The Director of Guest Services manages the organization's Guest Service Department. This involves providing customer service to internal and external customers, ticketing, ushering, supervising crowd control, providing guest mobility services, and training event staff members in each of these responsibilities.
General Manager
The General Manager supervises the company's overall operations, including improving efficiency and increasing profits. Additionally, GMs can hire staff, oversee operational budgets, and explore various company promotions to increase the customer base.
Vice President of Marketing
The Vice President of Marketing oversees the research, formulation, and implementation of all strategic marketing efforts. These include enhancing brand identity and positioning, as well as supervising paid media, digital marketing, grassroots marketing, and game-day events.
If you're looking to start or advance your career in the sports industry, consider earning a Master's in Sports Industry Management from Georgetown University. You'll be immersed in the multifaceted world of sports and gain a deeper understanding of the dynamics, planning, and operations of this fascinating industry.
Learn more