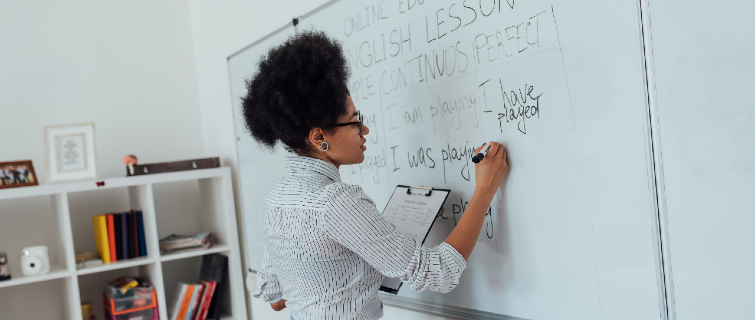 The English Learning Center's Teaching English as a Foreign Language (TEFL) Certificate Program welcomes new certificate candidates, allowing them to gain real-world experience by teaching an audience of volunteer students.
Last November, the program hosted 150 volunteer students from the District of Columbia, Maryland, and Virginia (DMV) area for a 10-hour English course. TEFL candidates developed practical lesson plans tailored to the students' needs, helping the students polish their language skills, interact with other English learners from diverse cultural and linguistic backgrounds, and enjoy a unique Georgetown educational experience.
Faculty member Sherry Steeley, Ph.D., is thrilled to resume this service for the local community of learners. "This practicum experience equips TEFL Certificate candidates with the skills to design the exceptional curriculum and instruction crucial for effective professional teaching across sociocultural and linguistic levels," she says.
The TEFL Certificate program offers a one-semester, 26-CEU (Continuing Education Units) credential for those interested in embarking on an English language teaching career in the United States or abroad.
Language schools abroad typically require applicants to have earned the TEFL Certificate when recruiting native English speakers from the U.S. to teach in their schools. TEFL alumni have leveraged this credential to obtain fellowships, and teaching positions across private language schools, nonprofit organizations, public and community service programs, and other educational settings.
Having shifted to an online practicum during the pandemic, students from around the world registered for this English class in the Fall of 2022. This class marked the first in-person session in two years. Students and student teachers alike were eager to be in the classroom again, as was evident in their robust participation.
And TEFL Certificate candidates thrive in working with this diverse population. "The TEFL Practicum was a fantastic opportunity to practice my English teaching skills in a real-life scenario," shares program alumna Sarah Lucena. "I had students from all over the world, and I'm happy that I was able to use all theoretical approaches and activities learned in the TEFL Certificate program to offer them a meaningful learning experience."
Tricia Schnell, another alumna, is teaching through a local program and says, "Regardless of whatever stress and difficulties my students may be going through—trying to find work, dealing with uncomfortable living situations, worrying about family in their home countries—they know that they are valued members of our English class and that they are learning an essential skill that will ideally help them resolve many of the problems they face."
By delivering high-quality, student-centered, communicative instruction, the program makes a meaningful contribution to the cultural and linguistic newcomers seeking to improve their academic, social, and professional prospects.
The return of in-person instruction provides participants with valuable experience and direct instruction with diverse students from around the DMV. Furthermore, the chance to live our University's value of Service to Others pairs strongly with the school's mission to prepare students to serve in the U.S. and overseas, contributing to cross-cultural and intercultural understandings.
If you're looking to expand your horizons and make a genuine difference in the world, visit the Teaching English as a Foreign Language Certificate website. For a first-person look at the work of the ELC from faculty, staff, and alumni, read the Georgetown English Language Center blog.