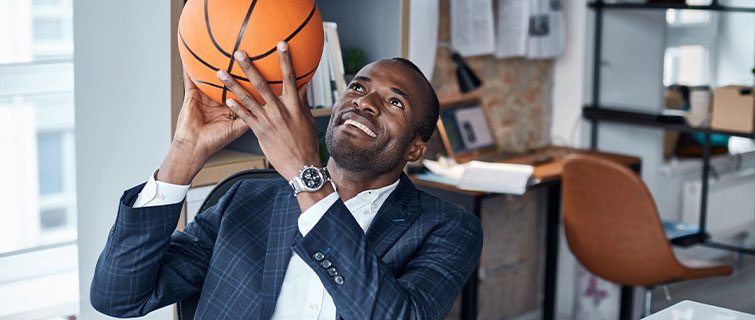 The number of jobs in sports-related industries is growing quickly. Between 2010 and 2014, sports-related jobs spiked by 12.6 percent, according to a study from CareerBuilder and Economic Modeling Specialists.1
A graduate degree in Sports Industry Management can unlock these increasing opportunities. Graduates can expect to enter the workforce in entry-level positions such as these:
Media Relations Coordinator
A media relations coordinator promotes the sports industry to the public through print, broadcast, and digital media methods. A coordinator could create press releases to spark media coverage, coordinate interviews, or write content for a sports-themed website in an effort to educate the public about the organization.
A media relations coordinator can also focus their efforts on a target group like investors. Rather than promote the organization to the masses, the coordinator creates targeted content that resonates with a specific niche. Coordinators can also expect to work alongside the advertising department.
Digital Media Associate
While media relations coordinators focus on a broad range of communication methods, digital media associates work solely in the online world. Associates create content to drive traffic to websites, post social media messages, and assist with video production for online distribution.
This growing field can also include creating strategies to serve fans across digital devices, graphic design for online elements like infographics, or creating emails to alert fans about upcoming events.
Community Relations Coordinator
To make a positive impact on the community, many sports industries rely on community relations coordinators. A coordinator helps plan and implement outreach programs that can benefit the community and reflect well on the organization.
Coordinators could be asked to research and identify charitable organizations, manage fundraising requests, or organize player appearances. Coordinators work to promote the sports organization and better the community at the same time.
Event Coordinators
Event coordinators work behind the scenes managing logistics to prepare the team and facility for game day. Working as part of an event planning team, coordinators help ensure the event goes off without any problems.
An event coordinator must be detail-oriented and able to juggle several tasks at once. Everything from booking hotel accommodations for the team, to delivering media packets to reporters on game day can land on a coordinator's to-do list.
Marketing Account Coordinators
Marketing is a vital component in the sports industry. At the entry level, students can work for a variety of different marketing venues. For example, students can work with sport-specific marketing firms that are responsible for a team's marketing strategy, or retailers that create sports gear for top athletes.
The responsibilities of this job include writing, researching strategies for high-level executives, and helping to maintain strong relationships with clients.
If you would like to learn more about how the online Master's in Sports Industry Management program can help you achieve your career goals, you can request more information or contact an admissions representative at (855) 725-7622. If you are ready to enroll, simply apply now.
Sources
Study CareerBuilder and Economic Modeling Specialists
Learn more