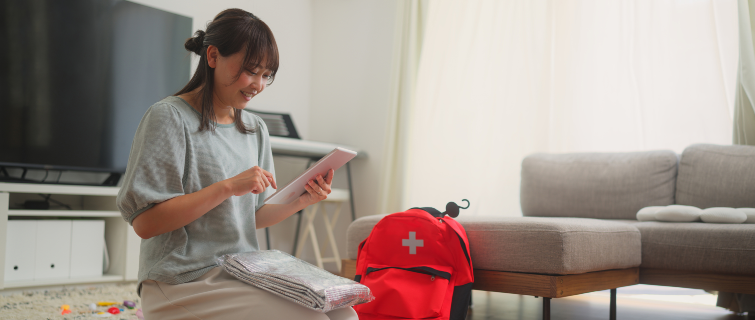 The Georgetown University School of Continuing Studies (SCS) remains steadfast in its commitment to ensuring its community members' safety, health, and security. In accordance with guidelines from the Georgetown University Police Department (GUPD), the D.C. Metropolitan Police Department (MPD), and other key stakeholders, we encourage our community to take the following precautions in order to foster a safe learning, teaching, and working environment at 640 Massachusetts Ave NW.
Update HOYAlert Settings
To ensure that you're receiving important updates such as inclement weather status, building closures, and other emergency notifications via text and/or email, please take a moment to review your HOYAlert settings. We strongly advise students who attend classes on campus, or visit the building regularly, to confirm their HOYAlert settings.
To review your settings, log into www.getrave.com/login/georgetown. If you are unable to log in, please create an account.
After logging in, click the profile icon on the top right and select "My Account."
Once you reach the My Account page, please ensure that all of your contact information is correct.

If you haven't already, you will need to confirm your phone number so that you can receive important texts.

Click the "Opt-In Lists" tab next to "My Account"
Select "SCS - Opt-In"

The blue check mark will confirm that you are on the appropriate lists: "Main/Med" and "SCS" are strongly recommended.
Personal Safety
Security Escorts are available for students, faculty, and staff, Monday through Friday from 7:30 p.m. to 11:30 p.m., and can accompany you to the neighborhood Metro stations and parking garages/lots. To request assistance, speak with an officer at the SCS Security Desk on Level 1 or call (202) 784-7375.
Enroll in AlertDC, the official District of Columbia communications system that delivers emergency alerts directly from D.C. public safety officials.
Dial 911 for off-campus emergencies or report concerns promptly to the GUPD at (202) 687-4343. Reach out to the Georgetown Threat Assessment Program regarding potential threats.
Familiarize yourself with Run-Hide-Fight training to respond effectively to active shooter incidents. Visit activeshooter.georgetown.edu for training details.
Exercise awareness and caution, especially during the night, when traversing well-lit, populated routes. Prioritize personal safety by eliminating distractions and practicing road safety.
Utilize the LiveSafe Mobile App, a direct link to the Georgetown University Police Department (GUPD) in case of an on-campus emergency. Please be sure to add "SCS" as your location. The app facilitates reporting of suspicious activity, emergency preparedness resources, and the SafeWalk feature for location sharing. (Please note: SafeRide Shuttles are only available on Georgetown's Main Campus.)
Sexual Misconduct Resources and Response
Georgetown offers comprehensive support for individuals who have encountered sexual misconduct. This includes medical assistance, safety planning, confidential counseling, and other measures. Off-campus resources are also available. The Sexual Misconduct Reference Guide contains further information.
Public Health
As COVID-19 continues to circulate in communities, Georgetown emphasizes vigilance to protect individual and community health. Key considerations include:
For more information, please review Georgetown's COVID-19 Resource Center.
Emergency Resources
The following medical emergency resources are available at the SCS building:
Automated External Defibrillators (AED): AEDs are used to help those experiencing sudden cardiac arrest. The sophisticated, yet easy-to-use medical device can analyze the heart's rhythm and, if necessary, deliver an electrical shock, or defibrillation, to help the heart re-establish an effective rhythm.

AEDs at SCS are located on Level 1 and C2.

Stop the Bleed Kits: Bleeding control kits are available to the SCS community to reduce the risk of death due to severe bleeding.

Bleeding control kits can be found with all publicly accessible AEDs on campus.
Kits include items such as bandages, a tourniquet, and gloves. Each kit is also accompanied by instructions for its contents.
Each AED will have either the single kit or, in several strategic locations, the high-volume kits, which allow for broad coverage across campus.
Inclement Weather
SCS follows the University's operating status determinations on campus closings, class cancellations, and late openings due to inclement weather, giving primary consideration to the safety of students, faculty, staff, and visitors. Determinations will be communicated via HOYAlert, email, phone, and the University's website. Please take a moment to ensure your HOYAlert settings are up to date.
SCS may make its own additional determinations on closure under special circumstances unique to our location. Criteria that may be considered in making such determinations include the condition of area roads and the ability of faculty, staff, students, and visitors to get to campus; status and schedules of public transportation; and upcoming weather forecasts.
Securing Your Property
Updated: September 2023