Executive Master's in Emergency & Disaster Management
Andy Moffitt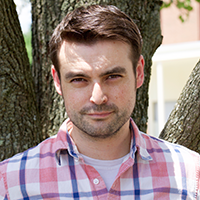 In the field of emergency management, technical knowledge is critical. And, by the time he had enrolled in the executive master's in Emergency & Disaster Management (EDM), Andy Moffitt had amassed a lot of it.
Moffitt spent more than a decade as a firefighter in Prince George's County, Maryland; his engine company was sent to battle the fire at the Pentagon on 9/11. Later, he joined the U.S. Army and served as a tactical medic during combat operations in Iraq.
Knowledge and experience—Moffitt had them both when he enrolled in EDM, and he would gain even more expertise at Georgetown. But the program also offered him something that would have been difficult to obtain elsewhere: The opportunity, he said, to be "exposed to the field at a higher level than I am working in now" and to the people who are making decisions at that level.
Georgetown's program gave Moffitt "unprecedented access" to numerous guests with leadership experience: The former administrator of FEMA, the head of emergency operations in Virginia, and a resident authority on anthrax at the Lawrence Livermore National Laboratory in California, to name a few.
The insights from these high-level contacts have helped Moffitt at his job as Program Manager for Finance & Logistics at the Maryland Institute for Emergency Medical Services System, where he works with law enforcement, fire and EMS units, public health agencies, emergency management departments, and hospitals to improve their terrorist response capabilities.
Moffitt's office is now helping these associates learn "high-threat medicine"—something Moffitt was called on to practice in the military. In the event of a terrorist attack, officials in these specialties cannot assume that medical help will arrive: They must be able to treat themselves and others in less-than-optimal conditions.
"The hardest part is being able to make decisions with incomplete information," Moffitt said. "That's what emergency response requires."