Executive Master's in Emergency & Disaster Management
Katherine Hawn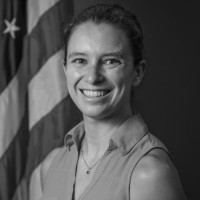 Years before torrential rains inundated California, a similar deluge struck Colorado, bringing 16 inches of rain to Boulder in just eight days. It happened in 2013 just after Labor Day, and Katherine Hawn, then an AmeriCorps worker assigned to FEMA, was there to help local nonprofits find federal help.
"I fell in love with the field when I was working with AmeriCorps," said Hawn, a 2015 graduate of Georgetown's executive master's program in Emergency & Disaster Management (EDM).
While at Georgetown, Hawn's EDM cohort traveled to New Orleans to talk with doctors, emergency workers, and others who witnessed Hurricane Katrina; to London to learn about international humanitarian aid; and to the Lawrence Livermore National Laboratory in California, one of the nation's premier research and development institutions for national security. For her capstone project, she compared the international humanitarian response in Kosovo in the late 1990s with the response to the ongoing crisis in Ukraine.
"The program gave me a broad awareness of the many areas of emergency management," said Hawn, who now, quite fittingly, works in the federal government's lead agency for international relief: USAID's Office of Foreign Disaster Assistance. "Because the program covered so many areas, I was able to pinpoint where I wanted to go after graduation."