Program in
Executive Master's in Global Strategic Communications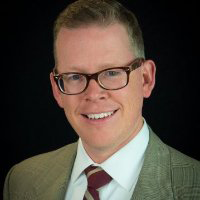 In Rob Bullock's former job as Director of Mission Communications for the Presbyterian Church (USA), he would sometimes be asked to send a message out to a broadly defined group, such as "all pastors" or "all Presbyterians."
If those requests sound familiar, it's because today's busy, multifaceted organizations often need help when it comes to defining an audience and crafting the right message. In Bullock's case, he felt he could provide that guidance—up to a point. But he wanted something more.
"I was determined to become more competent and confident," says Bullock, now Vice President of Marketing and Communications for the Presbyterian Foundation. "I'd been doing communications for 20 years, but all of it was ad hoc. So when I was giving advice it was based on my gut, but not on training in the logic and systems behind it."
Bullock received that training through the Georgetown University Executive Master of Professional Studies in Global Strategic Communications (GSC), from which he graduated last fall.
"I think the format and design of the course is perfect," Bullock said. "From the very first week, I was learning things I could immediately apply to projects at work."
The yearlong course combines online study with weeklong residencies in major cities throughout the world. Bullock's cohort met in D.C., London, and Singapore before returning to D.C. for the final week. They learned from Georgetown instructors, as well as scores of guest speakers and fellow students who included professionals from the U.S. military, AIG, The World Health Organization, and the U.S. Department of State.
"With all these fascinating folks," he said, "I absolutely learned as much from them as I did from the professors."