Program in
Executive Master's in Global Strategic Communications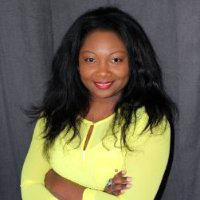 Patience Peabody likes being the first to try something—"a pioneer," as she puts it.
She grew up very poor in Barry Farm, one of the most disadvantaged neighborhoods in Washington, D.C. But that didn't stop her from being the first in her family to attend college.
Energetic and enthusiastic, she looks for the positive in people. And she is quick to express gratitude—to the D.C. public schools for showing her she had what it takes to go to college, and to Georgetown University's graduate program in Global Strategic Communications for teaching her that becoming a better communicator requires a personal journey of self-discovery.
"I felt that I was a more competent, confident leader coming out of the program than I was coming in," she said.
That theme emerged in the program's first course, Global Leadership & Communications, co-taught by public relations experts Bruce Harrison and Judith Muhlberg. "They really set the tone for the level of professionalism, wisdom, knowledge, and achievement that the program expected," Peabody said.
Peabody has spent most of her career with nonprofits and government entities that help people; it's her way of giving back to those who helped her. After starting the GSC program, she was recruited to be Director of Communications for the District's Office of the State Superintendent of Education.
Working in urban education in media-saturated Washington, D.C., can be an intense experience, Peabody said. But when she feels overwhelmed, either by the politics or the minutia of policy, she thinks about the individuals she is ultimately serving: the children of D.C., many of whom are in the same place she was not so many years ago.
"I'm a product of the D.C. public schools, and I know what success looks like," Peabody said. "It worked for me."