Program in
Executive Master's in Global Strategic Communications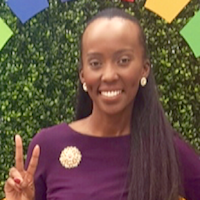 Set impossible goals—like "No Poverty" and "Zero Hunger"—then hope there are young people out there who are idealistic enough to attempt them anyway. Maybe that's what the United Nations (UN) General Assembly was thinking when it adopted the 2030 Agenda for Sustainable Development. Maybe it was thinking of people like Nygia Hearn-Hendricks.
A recent alumna of Georgetown's graduate program in Global Strategic Communications, Hearn-Hendricks worked on the UN's Peace Day365 and, for her Capstone project, helped design its Now Leaders initiative. The program will challenge young people, businesses, and nonprofits to work together to confront issues such as hunger, poverty, pollution, and climate change.
The multiple, intersecting problems the world faces today are unprecedented and can only be solved by a broad array of individuals working together, Hearn-Hendricks said.
"Nobody is an expert," she said. "So we all have to put on our thinking caps and consider ourselves as equals—and that's what this project does."
Hearn-Hendricks is currently the director of subscriber acquisition for UPtv (short for "uplifting entertainment"), which began as a gospel station and now airs family-friendly comedies and dramas. Previously, she was a global account manager for The Wall Street Journal and served on the board of Jerusalem House, an Atlanta-based program that provides housing for low-income and homeless individuals and families affected by HIV/AIDS.
Working on the Now Leaders initiative "ended up as more than a project for me," Hearn-Hendricks said. "It was something I was meant to be doing and it would not have happened without my experience in the GSC program."
"These young people are really the leaders we need now. They're capable, they're ready. They're willing to put their best foot forward and do the work."