Master's in Emergency & Disaster Management


Barry Morgan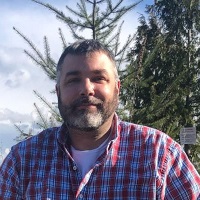 "Worse than Camille."
Those were words that Barry Morgan and his family thought they would never have to say. And yet, they did say them—on Aug. 30, 2005, the day after Hurricane Katrina made landfall on the Gulf Coast and eclipsed the destructive fury of legendary Hurricane Camille.
At the time, Morgan was a Training Officer for the U.S. Air Force, stationed near Cheyenne, Wy. He immediately requested three weeks of personal leave, packed his truck with building supplies, and headed south, stopping on the way to pick up the last two home generators at a Home Depot near St. Louis.
Beyond the destruction and suffering, what most struck Morgan after reaching his family's home in Poplarville, Miss., was the apparent disorganization: multiple volunteers and government agencies were responding and doing the best they could, but no one seemed to be in charge or looking at the "big picture."
Move ahead to today, and Morgan is one of those in charge of the big picture. At the University of Washington in Seattle—where he is Emergency Management Plans, Training & Exercise Manager—he manages more than 300 emergency plans related to the institution's academic, research, and business activities.
The turning point for Morgan came in 2016 after his wife, an active-duty Air Force member, was transferred to the Pentagon, and he enrolled in Georgetown's Master's in Emergency & Disaster Management program.
"It was extremely holistic and allowed me not to be pipelined into one specific area," Morgan said. "Especially with my wife continuing to be in the military, it's important for me to be flexible wherever we go. Georgetown really provided me with the opportunity, and I feel it prepared me to walk into any emergency management agency and fulfill a role in preparedness, mitigation, and recovery response."