Online Master's in Applied Intelligence
Dane Hughes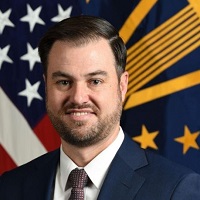 Before coming to Georgetown, retired Army Captain Dane Hughes was working in intelligence collection and analysis for the private sector. But shortly after beginning the master's program in Applied Intelligence, he was selected by the Department of Defense to be Senior Advisor for South and Southeast Asian Affairs.
Now, three years and two promotions later, he is Special Assistant and White House Liaison for Secretary of Defense Mark Esper.
It might sound logical to attribute Hughes' impressive rise to his graduate program at Georgetown, but to do so would be to engage in just the sort of presumptive thinking that the Applied Intelligence program tries very hard to identify and dispel. A more nuanced explanation is that Hughes brought considerable talent and experience to the program and just needed a firmer grounding in the theory and practice of Applied Intelligence today.
"I had a lot of experience in more traditional threat types: counterterrorism, money laundering, even doing geopolitical risk analysis," said Hughes, who was a Vice President at Deutsche Bank when he entered the program. "I didn't have as much experience in cyber and some of the emerging threats and technology."
In his current position, Hughes manages the recruitment, selection, and hiring of some 300 presidential appointments to the Department of Defense and serves as a liaison to both Congress and the White House.
"The program teaches you how to look at different problems in a methodical way, to have an extra layer of thoughtfulness, implemented in a rigorous process," Hughes said. "As I'm confronted by complex problems, I can apply some of these lessons—not necessarily directly, but indirectly—to these fast-paced and multifaceted problems we deal with on a daily basis."