THP 30: Dawn Carpenter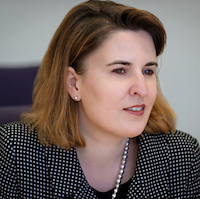 Program: Graduate Liberal Studies
Current Position: Business/Theology Columnist, Catholic Stand
Hometown: Akron, OH
LinkedIn: Dawn Carpenter
Describe an interesting trend you see emerging in your profession and how you think it will affect the field:
One of the most compelling trends that I see in my profession (capital markets) is the increased desire to find meaning and value in the work that we do. The compelling question for me is… why? This is what I came to Georgetown to study and why the Graduate Liberal Studies program is the only program where I could study this idea. Ultimately, what I believe is that the answer is rooted in understanding human values and our unique calling to use our work in the world to serve God—a very special Jesuit charism.
Who (or what) has inspired you and how has your life changed as a result?
Without question, the most significant inspiration in my life has been my conversion to the Catholic faith. As an adult convert, my experience was particularly profound. I can only describe it as having been walking through the world with nearsightedness and suddenly being handed a pair of glasses that changes your whole perspective. The way I responded to this call of faith was not to abandon my life in the world, but to study, read and absorb the wisdom of those who came before me on the journey of faith—this advice from the late Georgetown Jesuit scholar Fr. Ed Bodner.