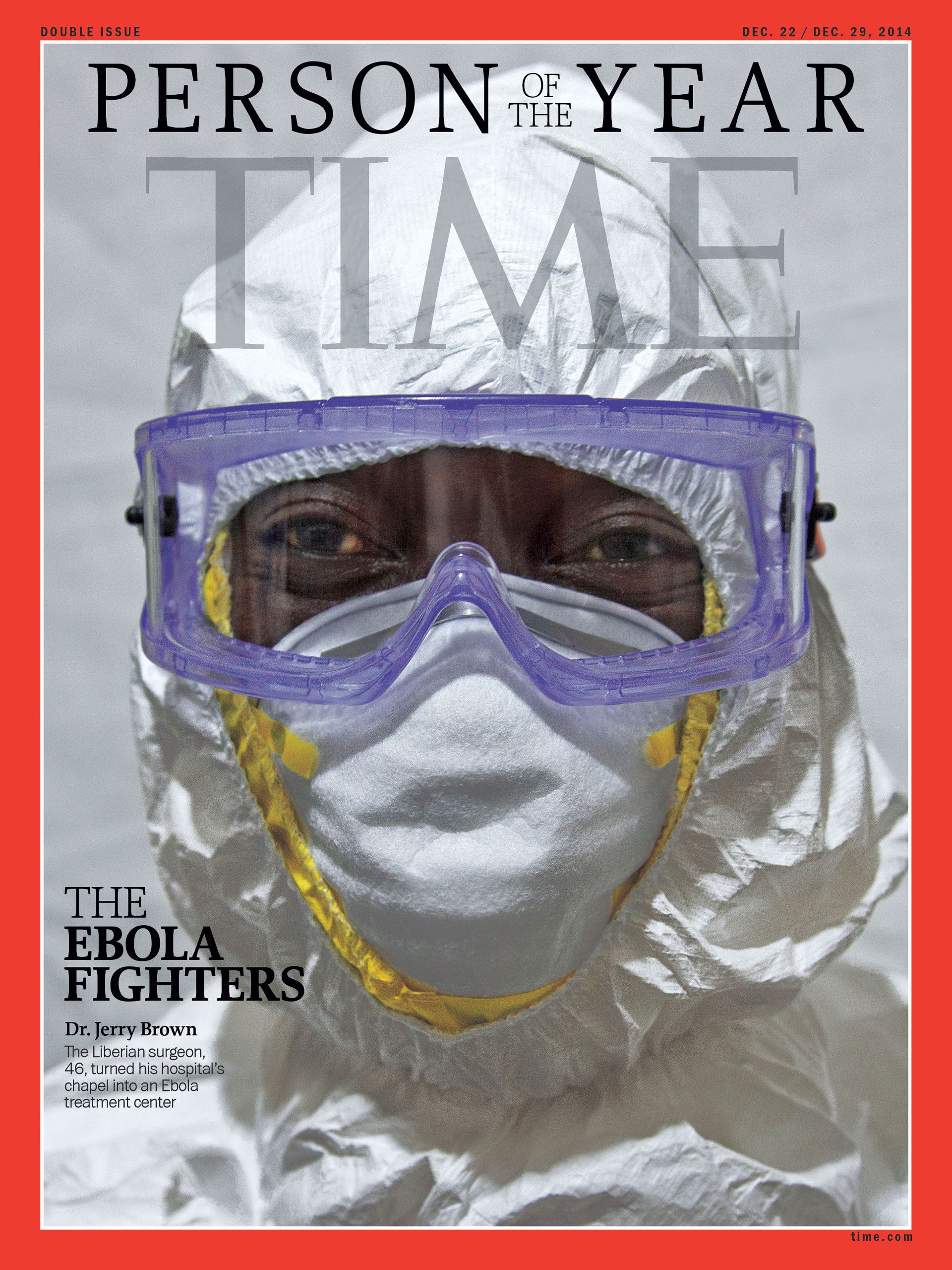 Photograph by Jackie Nickerson
for TIME
When TIME magazine set out to depict
"The Ebola Fighters" for one of the covers of its 2014 Person of the Year issue, it chose the image of a masked and goggled doctor in a white protective suit. Moving, yet strange and unsettling, the photo shows someone of uncommon courage, risking his life in a race to save others.
That's one face of the Ebola fighter, but it's not the only one. For all the healthcare workers battling on the front lines of the epidemic, there are many others providing critical support through research, analysis, and logistical services. Four of these professionals are also graduate students in the Executive Master of Professional Studies in Emergency & Disaster Management program at Georgetown University School of Continuing Studies. While they may not be in immediate danger of contracting the Ebola virus, they are devoting a good portion of their lives to the service of their country and the suffering people of West Africa. And their Georgetown education is helping them do it.
"I'm just managing the guys who are going out and doing the boots on the ground stuff," said Darrin Flick, a deputy in the CBRN Preparedness Division for the Defense Threat Reduction Agency (DTRA), an arm of the defense department. CBRN stands for Chemical, Biological, Radiological, and Nuclear. "They're the heroes, not me."
Adding Order to Chaos
A retired Marine who served in Bosnia, Somalia, and Iraq, Flick knows something about "boots on the ground" and the myriad challenges facing those on the front lines. If Ebola, its seemingly random spread, and the hysteria it generates, seem the very definition of chaos, it is Flick's job, and that of the other Georgetown graduate students, to add order to the situation.
Concentrated in Liberia, Sierra Leone, and Guinea, the latest Ebola outbreak has struck nearly 22,000 people and resulted in more than 8,200 deaths, according to the World Health Organization. In recent months the epidemic's pace has slowed dramatically, particularly in Liberia, but experts are well aware that new cases could spike again.
In his work, Flick teams with other federal agencies, such as the Federal Emergency Management Agency (FEMA) and the Centers for Disease Control (CDC) to help health ministries in Ghana, Mali, Cameroon, and Senegal—countries that have so far avoided the epidemic but are vulnerable—to prepare. Three times a week, he meets with a Regional Contingency Team, or RCT, to discuss what these nations need and how DTRA can help provide it. Among the questions: "Do we have enough people? Do we have enough resources? And, if not, how can I go out and find those resources so they can execute the mission?"
Andy John, another SCS student, leads a Situational Awareness Unit for IMAT-West. IMAT, which stands for Incident Management Assistance Team, is part of FEMA. He was on a training mission to Atlanta last October when he and his team were asked to stay and support the CDC's work on the growing epidemic.
John works part of the Emergency Operations Center in a large, open room that has four big-screen TVs and about 30 computer monitors that receive the latest information about the virus. His job is to verify and analyze this information, and disseminate it in a variety of formats.
"It's always a numbers game" to separate fact from hyperbole so that resources can be directed where they are needed most, John said. "If that number's not correct, we're not doing our job correctly."
Previously, John worked on the Yukon River flooding in Alaska and led a FEMA Corps team that responded to Hurricane Sandy. But the scope and complexity of the Ebola epidemic was something new.
"We've never seen anything on this magnitude before," he said.
In the Emergency & Disaster Management program, John is learning more about coordinating multiple agencies and volunteer groups. He is one of 37 students, divided into two cohorts, who form a virtual group of classmates who communicate via Blackboard and web conferencing. In addition to its online work, the group meets on location in cities such as London, New Orleans, and Washington, D.C., to receive training from local experts.
"It's really a good swath of information that we are delving into," Flick said. "It's pretty intense."
The Georgetown Connection
Albert Gembara is an interagency coordinator with the United States Agency for International Development (USAID), the lead federal agency for foreign disaster response. It is his job to help coordinate planning and decision-making across the various government agencies involved in the U.S. Ebola response. He met Flick not through his work, but through the Georgetown class, and now communicates with him when he needs help from Flick's agency.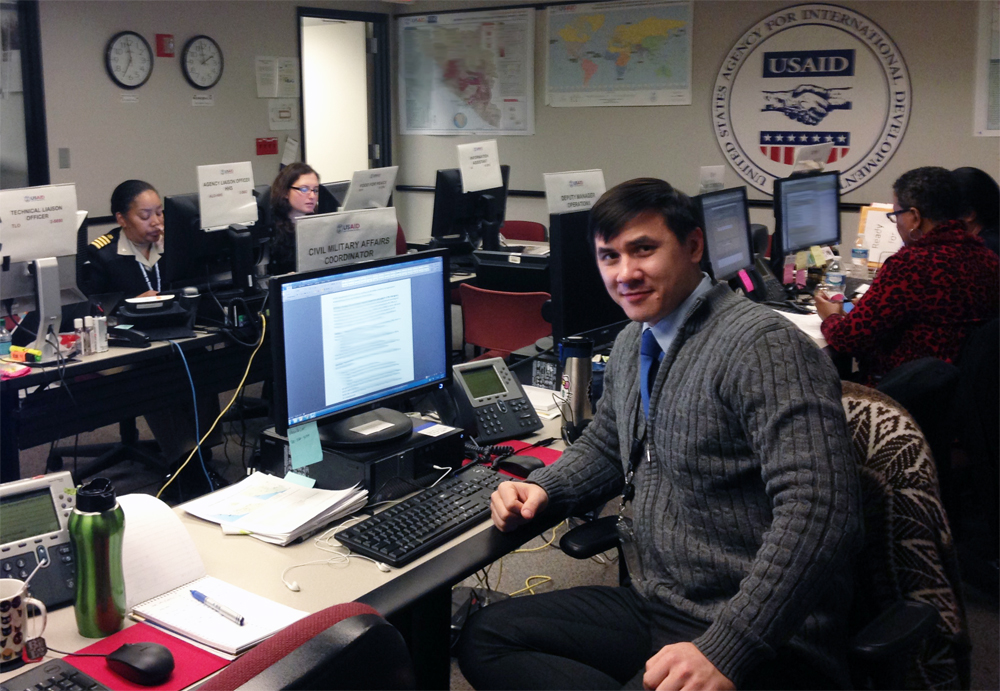 Albert A. Gembara, Technology Integration Officer, at the United States Agency for International Development operations center.
The EDM program has "helped to broaden my perspectives, and has enabled me to better anticipate needs, evaluate alternative approaches, and make critical decisions that facilitate 'whole community' disaster response and recovery operations," Gembara said.
John has also learned a lot about his classmates' Ebola work through his Georgetown connection.
"Now they're just a phone call or email away from potentially answering a question about what their organization is doing," he said.
Enrique Tamayo, another Georgetown student, is the Director of Incident Management for U.S. Customs and Border Protection, Office of Field Operations. "We are the ones tasked with screening all the travelers entering the United States by land, air, and sea – ports of entry – and that's how we are involved with Ebola."
Because of the nature of his work, Tamayo can't say much about the screening process, other than it's "a tricky balance." But he's more effusive when talking about the "excellent" program at Georgetown.
"Everything we are studying, all of the discussions we have, all the reading that we do are immediately applicable to what I do on a daily basis," Tamayo said.
Bringing order to chaos – it's what Tamayo and his colleagues are studying at Georgetown, and what they are striving to do in their daily jobs.
"Everybody's been on the same page," Flick said. "Trying to do the right thing, and trying to knock this epidemic down."
Learn more