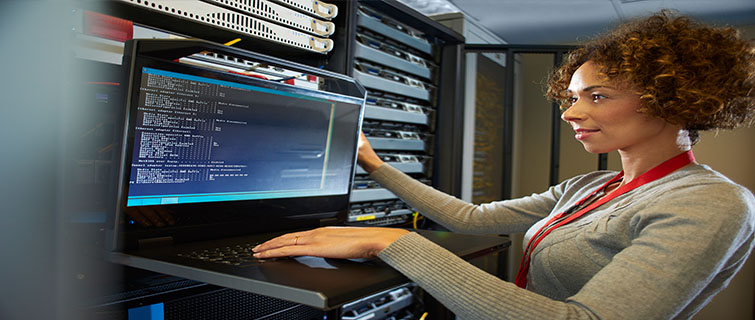 Catriona Coleman troubleshoots multiple data systems for her work at the National Institutes of Health. She majored in Health Sciences in college, but her facility for technology became apparent at a previous job with Inova Fairfax Hospital, and she was given increasingly complex tasks with the hospital's data systems.
Now a contractor for Global Solutions Network, Inc., and a graduate student in Georgetown University's Master's in Information Technology Management (ITM) program, Coleman is obviously very bright and accomplished. And yet, she said with no hint of frustration or pique: "There are times [on the job] when I think people really don't expect me to know as much as I do."
Is it because of her non-technical background? Or because she's a woman in a field dominated by men? Whatever the case, when this happens Coleman is always professional and personable, replying: "No. No. I know what I'm talking about."
A Growing Need for Talent
By 2022, the nation will have 1.2 million computer-related job openings, but only 39 percent of these jobs could be filled by U.S. computing undergraduates, according to projections by the National Center for Women & Information Technology. The surest way to address this deficit is by confronting a troublesome fact: Roughly half the U.S. population is grossly underrepresented in this well-paying field.
"It is definitely challenging out there for woman in technology," said Dahna Goldstein, an adjunct instructor at Georgetown and founder of PhilanTech—an award-winning nonprofit software company recently acquired by Altum, "The IT industry has historically been male-dominated."
In 2013, women made up just 26 percent of workers in computer and mathematical occupations, and only 12 percent of engineers, according to a report by the American Association of University Women (AAUW). Because of unfriendly work environments, family responsibilities, or other factors, more than half will drop out over the course of their careers, said a study by the Harvard Business Review.
Georgetown Provides Training and Support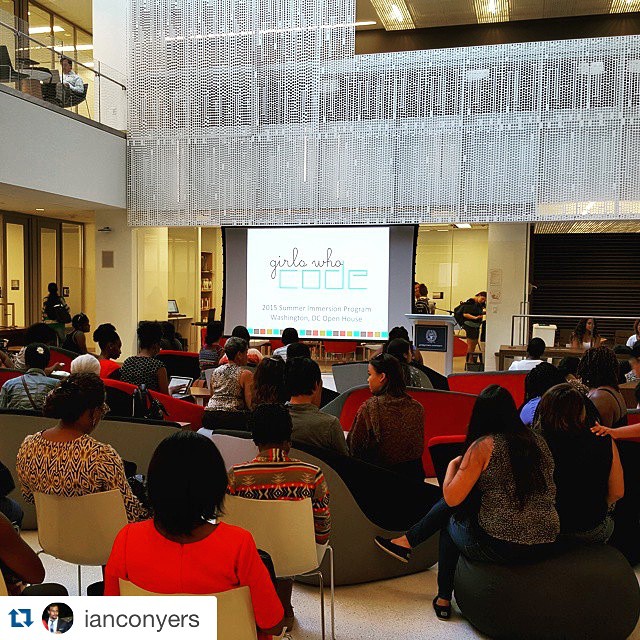 The seven-week summer session of Girls Who Code kicked off June 24 at Georgetown SCS. Girls Who Code is sponsoring programs for 1,200 high school girls this summer in nine cities.
SCS's Technology Management program addresses gender disparities by providing valuable training and support for professional women—and men—during what can be a critical point in their careers. Coupling business management skills with technical training, the program seeks to develop the next generation of well-rounded senior technologists, people who can leverage the latest technology to advance the goals of their businesses or organizations and also impact society.
"It's really helped me to feel more confident in my intended career path," Coleman said. "I have really solidified what I want to be doing, and I wouldn't have this feeling if it were not for Georgetown."
Carlie Bissler is Lead Operations Consultant for CEB. "We provide research for top executives around the globe" she said.
When it comes to many traditionally male fields, including technology, "men are hired for their potential, and women are hired for what they've done in the past," Bissler said. To succeed, women have to be able to show what they have accomplished.
"You have to come in with sort of a personal brand," Bissler said, "a reputation you've built over the years."
Giving students—men and women—the skills and confidence to build their "brands" is one benefit of the TM program. Though they may have varying roles in business, government, or the nonprofit sector, they have a shared experience in technology. At Georgetown, they learn from one another and from instructors who are leaders in their fields.
"The instructors really want you to succeed and do well, and this is a wonderful and awesome feeling to have," Coleman said. "It's just a really nice feeling to have that support as you go through the program."