A few pages into the graphic novel March, Book II, a young civil rights leader named John Lewis is urged by an older pastor not to push the police and white bystanders by marching in front of a segregated Nashville movie theater.
It's too risky, the pastor says, noting that protestors who tried to buy tickets to The Ten Commandments had been beaten by police.
"John! You're agreeing with everything everyone in this room is saying, but all you say is, 'We're gonna March'…," Rev. Will Campbell says. "What it comes down to is that this is just a matter of PRIDE to you. This is about your own stubbornness. Your own SIN."
"Then I'm a sinner," Lewis says, "but we're gonna MARCH."
A Defining Moment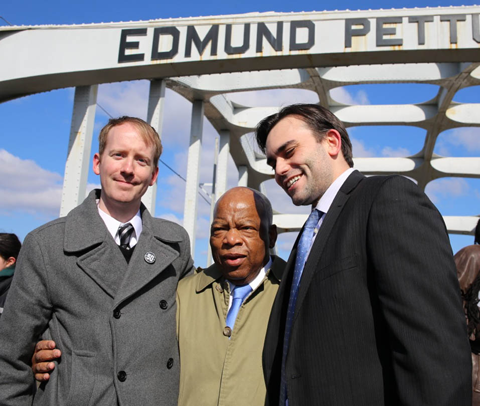 Andrew Aydin (right) stands with fellow author John Lewis (center) and illustrator Nate Powell (left) on the Edmund Pettus Bridge in Selma, Alabama. (Photo courtesy of Top Shelf Productions.)
There were certainly more dramatic moments in the fight for racial equality, but none more telling that this one described by Lewis, illustrator Nate Powell, and fellow author Andrew Aydin—a 2012 graduate of Georgetown University's Master of Arts in Liberal Studies program. Their book, March, Book I, a New York Times bestseller, was published in 2013, and followed by Book II in January 2015. Book III is scheduled to appear next year.
Lewis, a civil rights icon and long-serving Georgia congressman, was only 20 years old at the time. Older allies, people with far more experience, were urging him to go slowly, to aim for small victories. But like Dr. Martin Luther King Jr., Lewis knew that confrontation was inevitable—even, sometimes, desirable—and that opportunities had to be seized.
They did end up marching, several were arrested, and Lewis spent Feb. 21, 1961—his 21st birthday—in jail.
A Distinguished Legacy
King's legacy is celebrated worldwide; but while Lewis is also esteemed in civil rights circles, fewer people know his story. And that's what Aydin, Lewis' longtime aide, friend, and a lifelong comic book enthusiast, is seeking to rectify.
"No one gets arrested four times in eight days at the height of the Selma campaign," Aydin said, describing what happened to Lewis. "I mean, you've got to work to do something like that."
The inspiration for the project came after Lewis won his primary election in 2008, and his young campaign staff prepared to disband for the summer (this being a safe Democratic district) and go their separate ways. Some talked of visiting their parents or relaxing on the beach.
"I'm going to a comic book convention," Aydin said, and everybody laughed.
"Don't laugh," said a deep voice in the back of the room. "There was a comic book during the civil rights movement, and it was incredibly influential."
The voice came from John Lewis, who proceeded to tell his staff about a pamphlet called Martin Luther King and the Montgomery Story that described the famous bus boycott. Published by the peace group Fellowship of Reconciliation in December 1957, it sold for 10 cents. Later, Aydin would write his master's thesis for Georgetown's Master of Arts in Liberal Studies program on the book's genesis and uncover a letter from King that included his edits for a draft copy.
That a comic book would be suitable material for a thesis topic is perhaps no bigger a stretch than Lewis' comment that this particular comic helped document a movement.
In Liberal Studies "you cross borders. You don't shut yourself in one discipline," said Kazuko Uchimura, a historian and former World Bank economist who was Aydin's Georgetown University thesis advisor. "I think that makes Liberal Studies important for working adults."
Aydin, now Digital Director & Policy Advisor at the U.S. House of Representatives, is thankful that the modest and self-effacing Lewis agreed to collaborate with him and Powell.
"He's not someone who's going to say, 'Look. Guess what I did?''' Aydin said. "That's my job."
---
The Georgetown University Graduate Liberal Studies degree programs includes a Master of Arts in Liberal Studies and a Doctor of Liberal Studies. These programs draw from various subject areas to provide students with the skills they need to achieve their personal and professional goals.