Intelligence Officer Mark Holbert (right) and an interpreter in Afghanistan. On August 16, 2010, the lives of Mark and Master Sergeant David Smith would change forever.
---
It was his fifth tour of Afghanistan, and possibly his last.
At age 40, Master Sergeant David Smith was at least a decade older than most of the 11 Special Forces troops he commanded. They might have read about Desert Storm, George H.W. Bush's 1990 invasion of Iraq: he was there. Though he had reenlisted one last time, he could see retirement approaching. He had spent much of the past 20 years in volatile places that most Americans could only imagine; now he was ready for a quieter life with his wife and children in Northern Virginia, and perhaps a second career with the U.S Marshals Service or the FBI.
That all changed on August 16, 2010.
"I told Mark to go get the optics and scan the area" for bombs, Smith said. "He took one step, and that was the IED [Improvised Explosive Device] that nobody found."
Mark Holbert had been his friend since they were both stationed at Fort Bragg in 2005. Now he was Smith's Intel Officer at the firebase in Helmand Province. From that moment on, their lives would parallel one another. Both were seriously injured in the attack and sent to the same military hospitals in Germany. Both endured repeated operations and months of painful rehabilitation at Walter Reed Army Hospital. And, in the summer of 2011, after being visited by a determined hospital outreach worker and staff from Georgetown University, both enrolled in the Bachelor of Arts in Liberal Studies program at the University's School of Continuing Studies (SCS).
"They were the first two guys we talked to," said Keith Hrebenak, a U.S. Air Force veteran and an instructor in the bachelor's program as well as at Georgetown's School of Foreign Service (SFS). About 10 wounded veterans attended that introductory class at Walter Reed—a prerequisite called "Writing in an Interdisciplinary Environment"—and more than half later enrolled.
About 40 percent of students in the Bachelor of Arts in Liberal Studies program are veterans. Students and faculty alike say that they bring certain maturity and knowledge born of practical experience to the program, and that civilians and veterans learn from one another. The program looks at the sweep of Western Civilization, from antiquity to today. It is interdisciplinary, covering diverse subjects that include history, philosophy, anthropology, and religion. The veterans are generally outspoken and opinionated, Smith said. And when the conversation turns to military history, one student noted recently, "they're all over it."
An Attack on the Perimeter
The attack happened at around noon. The soldiers heard an explosion near the firebase's perimeter and assumed it was a rocket-propelled grenade. But then, on a surveillance camera, they saw two insurgents dragging away a third man who appeared to be dead or seriously injured, probably from his own IED.
Smith's team drove their vehicles to the perimeter, made a sweep of the area, and found and exploded a second IED. They were working within a small area that Smith compared in size to his Loudoun County living room—a place they had previously checked with a bomb-sniffing dog and a metal detector and had been walking back and forth over for nearly an hour. Smith told half the group to go down a ravine to investigate further while Holbert and the other half covered them with the truck-mounted camera.
That's when Holbert stepped on the bomb.
"Turns out there was a third one that the dog team and the metal detectors didn't find," Smith said. "It's never 100 percent."
Holbert lost both legs in the explosion. Later placed in a medically induced coma, he would not be reunited with Smith until after he regained consciousness six weeks later and the two friends' wives had their hospital beds rolled alongside each other for a brief moment at Walter Reed.
"He had a tracheotomy, so he couldn't talk," Smith recalled. "I had my eyelids stitched, so I couldn't see. He couldn't talk, and I couldn't see, but we knew we were both alive."
Smith lost his left arm and one of the fingers on his right hand. Two other fingers were also injured, rendered so stiff that he now types with just one finger—his middle one—though his wife Meredith jokes with him that it can't be his middle finger because he only has four. He estimates that he has had nearly 60 operations since the attack.
Smith also sustained a moderate case of Traumatic Brain Injury (TBI), a short-term forgetfulness which has required him to work harder than most students, but which has improved through the mental stimulation of school. He never told his instructors about his TBI, even though federal law entitles him to accommodations. He even refused Hrebenak's suggestion that he get a handicapped plate for his car. His wife says her friendly, unassuming husband, sitting across from her in that Loudoun living room, is hardworking, uncomplaining, proud – and just a little stubborn.
"I've seen men and women who are in a hell of a lot worse shape," Smith said. "If it means I have to try a little bit harder, then I'll try a little bit harder. I won't make excuses for anything that I do."
Smith said he was "a pretty bright kid" at Franklin County High School south of Roanoke, but back then he had no interest in college. He just wanted to see the world and figured the Army was the way to do it.
Starting Again at Georgetown
His injury changed his priorities and his plans for the future. When he was asked that day at Walter Reed if he was interested in coming to Georgetown, his reply was "absolutely!"
"I was a middle-aged adult dealing with a life-changing injury," Smith said. "I realized I was going to have to adapt—the world wasn't going to adapt to me."
Smith graduated from the bachelor's program last summer and is now a graduate student in Securities Studies at SFS. He expects to get his master's in two years, and then plans to use his education and military experience to become a security consultant. He has two children, a son in his sophomore year of high school and a daughter in her sophomore year at the University of Mary Washington. Both are planning to go into the military.
Holbert, 39, who works full-time as a contractor in Intelligence for the Department of Defense, plans to graduate from the bachelor's within two years. Juggling these responsibilities while helping his wife with their eight-year-old daughter ("Daddy, you go to school?" she continually asks him) can be daunting at times, but he says his Georgetown experience has been "wonderful," and he doesn't complain. In fact, that's true about all the veterans: they never complain. Ever.
"These guys were never late," Hrebenak said. "They never had an excuse."
He added later, politely but adamantly, that the premise of one of the interview questions, which referred to "what Georgetown had done for the veterans," was all wrong. "It's more what these veterans have done for Georgetown."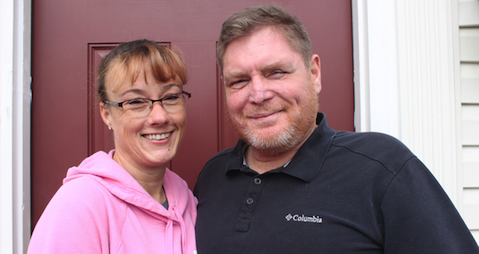 ---
Meredith and David Smith at their Loudoun County home.
---
Back at his home in Loudoun County, as Smith was preparing for midterms, he and Meredith said that the stimulation of college has helped his TBI and that the challenges have taught him new ways to learn and retrieve information. "There's always a way around it," she said. "You just have to find it."
"The University and the Bachelor of Arts in Liberal Studies program —they wanted to make it as seamless as possible for the wounded vets to come to classes at Georgetown, to remove any barrier that could stand in the way." Smith said. "From my perspective, how could you not be a part of that?"