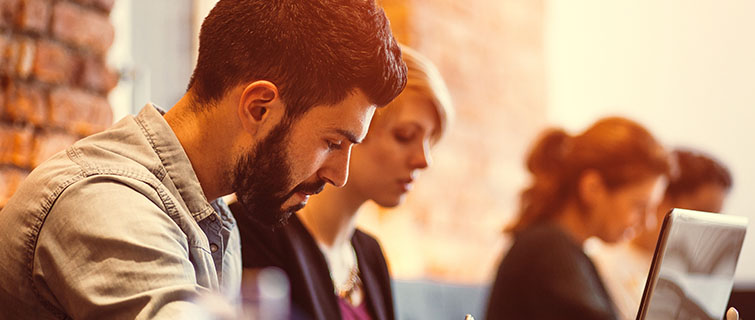 Erika Seamon didn't start out as a teacher; it was her second career. Yet there she was, preparing to give an acceptance speech for a distinguished teaching award before students and faculty at prestigious Georgetown College, founded in 1789 and today the academic heart of Georgetown University.
A graduate of the Master of Arts in Liberal Studies (MALS) program at Georgetown University, Seamon had gone on to earn two additional Georgetown degrees, including a doctorate in Religious Studies. In that spring, the American Studies professor and former management consultant was preparing to accept the 2015 College Academic Council Faculty Excellence Award.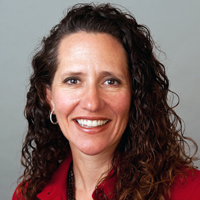 MALS alumna Erika Seamon received the 2015 Faculty Excellence Award.
"Talk about a nerve-racking speech to write!" she says.
Maybe the speech was hard to write, but for Seamon the topic was self-evident: the continuing importance of a liberal arts education.
"There are a number of life experiences that got me where I am now," Seamon says. "But Georgetown's Master of Arts in Liberal Studies program affected the trajectory of my intellectual life and career in profound ways."
A Growing Need for Empathy and Vision
For someone on the path to becoming an American Studies professor, pursuing the liberal arts sounds like a logical step. But what about the vast majority of professionals in other careers? Can they benefit from a liberal studies degree too?
In the Jan. 29 issue of Harvard Business Review, Tom Perrault, of the digital health company Rally Health, says talented liberal arts graduates will not only land jobs in the burgeoning tech sector, but also will be increasingly sought after.
Today's digital companies are, understandably, keen on hiring people with an array of technical skills: code writers, data analysts, and business intelligence engineers, Perrault says. However, "In the future, computers will take over more and more of these tasks, including programming and data crunching … What can't be replaced in any organization imaginable in the future is precisely what seems overlooked today: liberal arts skills, such as creativity, empathy, listening, and vision."
If these skills sound unduly "soft" or irrelevant, think of a product that fails because of a poorly designed interface and how it might have benefitted from someone who could relate to customer needs—someone who could listen, empathize, visualize, and create.
"That's where liberal arts skills come in," Perrault writes. "Soon, companies will rush to hire these skills in the same way that they compete for coders and engineers today."
Eric Denker concurs. A retired Georgetown art professor who leads Georgetown's Master of Arts in Liberal Studies students on tours of the National Gallery of Art, Denker says a liberal studies degree "prepares you not only for your current job, but for every job you'll ever have. It gives you the tools to apply to any position."
A Wider Frame of Reference
Of course, a liberal studies degree also offers personal and intellectual benefits that can't be duplicated in more narrowly designed programs.
Environmental attorney Charles O'Connor III, who earned both a Master of Arts in Liberal Studies and a Doctor of Liberal Studies from Georgetown, wrote recently that despite the intellectual challenges of his work prior to starting the master's program, "something seemed missing, some wider frame of reference. The law had distracted me from life's larger questions of meaning and value. Those questions, admonished Socrates, required personal answers in an examined life, and I had given them scant attention since my Harvard undergraduate days as an English major."
To pursue those larger questions, the Georgetown program has adopted an expansive, interdisciplinary approach. Students study a broad array of topics from antiquity to the present, including the philosophical traditions of Greece and Rome, Shakespeare, Chaucer, the Crusades, the Renaissance, the Enlightenment, America's founding documents, and the continuing search for meaning today.
Students are also encouraged to tailor their learning to their specific interests. Classes are held at night and occasionally on Saturdays to accommodate working professionals; they are also intentionally small, so students can form close relationships with their instructors and classmates.
Providing a common thread throughout the program is Georgetown's rich Jesuit tradition, which emphasizes a comprehensive educational approach and the core value of cura personalis ("care for the whole person").
"I think the personal nature of the program is reflected in the community we try to create for our students," said John Dolan, Associate Dean of Georgetown's Liberal Studies Programs, which includes the bachelor's, master's, and doctorate degrees.
A 'Sharpening Experience'
Andrew Aydin, a 2012 Master of Arts in Liberal Studies graduate, returned to that community of students, faculty, and fellow alumni in February to give a speech about his longtime boss, Democratic House member and civil rights icon John Lewis.
Several years ago, while a student in the program, Aydin began work on a graphic novel trilogy with Lewis and illustrator Nate Powell about Lewis' experiences in the famous Selma, Alabama, march and other key moments in the civil rights movement. March I, the first installment in the series, was published in 2013 and became a New York Times bestseller. March II was published two years later, and March III is expected to come out this summer.
Aydin, now Digital Director & Policy Advisor for the U.S. House of Representatives, had never written a book before. And yet, at the same time he was writing his thesis (about an earlier civil rights-themed comic from 1957) he was embarking on the book project and searching for a publisher. He was buoyed by Lewis' faith in him and the skills he was learning at Georgetown.
"If I didn't have that sharpening experience of the Master of Arts in Liberal Studies program" Aydin said, "I wouldn't have been able to pitch March, much less finish it."
---
The Georgetown University Graduate Liberal Studies degree programs include a Master of Arts in Liberal Studies and a Doctor of Liberal Studies. These programs draw from various subject areas to provide students with the skills they need to achieve their personal and professional goals.
Learn more