Why Creativity Is Essential in the Working World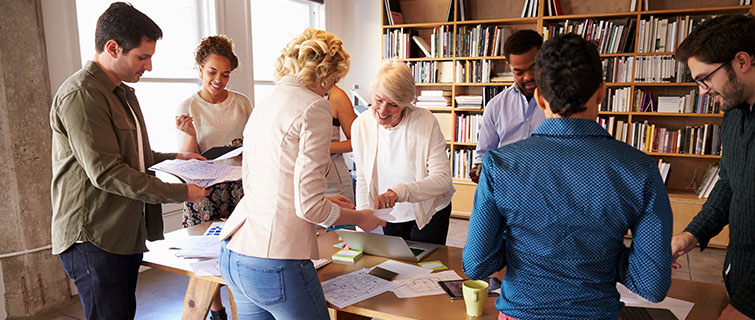 In today's quickly changing, hyper-competitive work environment, creativity is absolutely essential. Years ago, in a slower-paced time, some employees might stay in the same job for decades. Now, nine out of 10 millennials plan to be in their jobs for less than three years, which means they could have 15 or more positions in their working lifetimes.
Once, it was sufficient to do one task well, with little collaboration across silos. Now, businesses want employees who can work in teams, often with people of vastly different backgrounds and skill sets. To thrive in this environment, people must be able to think across disciplines, understand a problem from multiple angles, and see the big picture.
"One of the things we want students to do is to think differently, to try to develop an appetite for taking some risk," said Joshua Meredith, Assistant Dean for the Technology Management and Systems Engineering Management master's programs at the Georgetown University School of Continuing Studies (SCS).
The word "disruptive" might be overused, Meredith said, but it describes the kind of thinking technology professionals need in order to innovate. "How do you think of old ideas in new ways? How do you think of new ideas in new ways? You've got to get the problem-solving engine moving and break up the box."
'Hands-on, Practical, Immersive'
Module Four of the yearlong executive master's program in Global Strategic Communications is called "Adapting to the Future," and it includes a six-day trip to Singapore to explore the challenges of communications in emerging markets. The students—mostly communications professionals interested in moving up to executive positions—are asked to adapt an existing marketing campaign to the needs of a different culture.
The residency "makes it very hands-on and practical, and immersive in the environment we're studying," said Program Director Maria Holsopple.
Throughout the year, students also explore their personal leadership styles with an executive coach in order to ultimately make changes in their approach to their own jobs, explained Holsopple. Engaging in this kind of self-exploration is risky, of course; it takes the students away from their comfort zones. But it is this very risk-taking that is essential to tapping into the creative mind—and finding creative solutions.
"We bring messy, real-time challenges into the curricula, so that our students get to flex, and ultimately build their creative muscle," said Denise Keyes, Senior Associate Dean for SCS's Division of Professional Communications. "It's a safe place to collaborate, brainstorm, and take risks—without fear of failure—so that students practice the art of creative problem solving."
Nurturing the Creative Culture of Cities
Cities have always been creative places. They tend to draw the kind of people who aren't content with the status quo or the accepted ways of doing things. Eventually, the work of these risk-takers leads to artistic and technological advances, which, in turn, attract more creative people.
Ideally, a virtual circle ensues. But is there any way that city or regional planners could influence this process, speed it up, perhaps, or keep it from stalling in the face of unforeseen impediments? The leaders of Georgetown's Urban & Regional Planning program think there is, and last fall they developed a series of five seminars called "Creating Creative Cities" to explore this dynamic. In conjunction with the seminars, the program also offered a course examining planning practices that advance the kind of "new" economies associated with creative, cultural, or information-based industries.
Creativity is also central to the work of planning itself, a multidisciplinary process that is ultimately about creating—or supervising the creation of—spaces that profoundly impact people's lives. "I don't think there is any way that students can solve the challenging, real-world problems we give them without responding in an interdisciplinary way," said URP Program Director Jamie Kralovec. "And that requires creativity."
---
Read more about some of the ways students are exercising their creative muscles in Georgetown's MPS programs:
Integrated Marketing - Using Lateral Thinking to Find 'The Big Idea'
Real Estate - Capstones Show Ambition, Imagination—and Lead to Jobs
Urban Planning - Building a Self-Sustaining City