Georgetown University's Master of Professional Studies (MPS) in Urban & Regional Planning (URP) prepares students to influence how cities grow, connects them to leading professionals, and, not incidentally, positions them for their next job. Here, two program alumni and a current student share insights on their new positions in Washington, D.C., and how they got there.
Bikes, Uber, and Self-Driving Cars
Stanford Turner
Senior Policy Analyst for the Eno Center for Transportation
Georgetown Alumni 2016
As an urban planning student, Stanford Turner was interested in how alternative modes of transportation—ride sharing, for example—might impact not just traffic flow but also a community's access to economic opportunity. A D.C. native, he loves the freedom of urban cycling and the practicality it offers in crowded neighborhoods. For his Capstone project, he researched the decision-making factors for why low-income residents don't use bicycles to access public transportation and what might be done to change this phenomenon.
"Urban planning is such a multidimensional field," Turner said. "You are forced to integrate many things that shape people's quality of life."
Turner wanted to do more than scratch the surface of transit planning. He said his instructors in the program gave him the flexibility to carve out his own space and complete research in the areas that mattered most to him.
Turner received his master's degree in May. Three months later he accepted a position as a Senior Policy Analyst for the Eno Center for Transportation, a leading transportation think tank.
His first project is a comprehensive analysis of how new mobility services—such as Lyft and Uber—and emergent ones—such as self-driving cars—could change the transportation landscape of the future. The study will help local governments and other stakeholders create policies needed to prepare for this change. Reflecting on his graduate education and its impact, Turner said his experience at Georgetown was crucial to the work he does now.
Clean Water, Democracy, and a Brighter Future for Global Cities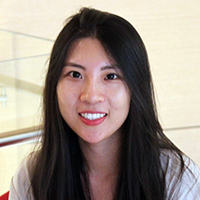 Yinuo Wei
Project Planner, South Asia Division, World Bank
Georgetown Alumni 2016
Empowering women. Promoting access to urban infrastructure. Raising people out of poverty.
They're all critical issues in human development, and in her job at the World Bank, Yinuo Wei has a hand in them all.
Wei, a native of China, graduated from the URP program in December. At the World Bank, she is a project planner on two of the institution's programs in South Asia: a water treatment project serving Mumbai, India; and a program assisting thousands of union parishads in Bangladesh. Union parishads, the nation's smallest governmental units, strengthen rural communities by supporting grassroots democracy and promoting women to positions of authority.
"When I was young, I was very interested in drawing and design," Wei said. But later, she realized it wasn't the creation of design documents that resonated with her as much as the concepts and strategies behind them. She liked planning and solving problems—the more complex, the better.
For her URP Capstone thesis, Wei looked at how management problems in China's oil and gas sectors have led to accidents and environmental damage in major Chinese cities. She said the URP program helped her explore interests and prepare for the intellectual challenges in the field today.
"It's easy for us to communicate and ask questions of our professors because the classes are small," Wei said. "They're also very caring and helped me by giving career advice."
Financing Big Projects on a Human Scale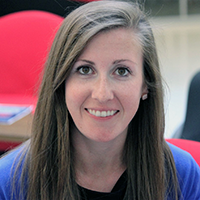 Maura Brophy
Infrastructure Finance Analyst, Federal City Council
Master's Candidate, 2017
Maura Brophy was already working as an affordable housing developer when she began her master's studies at Georgetown. But as much as she valued creating housing in low-income neighborhoods, she knew she wanted to explore new ways of financing urban infrastructure and large-scale urban development.
The URP program helped her make that transition. In January, she started work at the Federal City Council, a 70-year-old nonprofit which represents the business community in Washington, D.C. She is now involved in some of the biggest projects in Washington, including the expansion of the Metro, the redesign of Pennsylvania Avenue, and the redevelopment of historic Union Station.
In her second year of the program, Brophy teamed up with fellow student Arianna Koudounas to complete a comparative analysis of ecodistricts in Seattle, Portland, and the District of Columbia. Ecodistricts are designated city sectors that focus on reducing the municipality's environmental footprint and improving its quality of life. As a result of their work, the two were later invited to present their findings at the American Planning Association's annual conference in Seattle.
"The program does a wonderful job of making resources and classwork available to explore areas of individual interest," Brophy said. "It allows people who are entering or advancing in the field of urban planning and development to connect with people who have deep experience; and I think that's one of the greatest advantages I benefited from."