To make it in real estate, you have to have imagination—and maybe a dash of fearlessness. It's not enough to know where the market is today; you need to have almost a sixth sense about where it will be tomorrow. As hockey Hall of Famer Wayne Gretzky put it, you need to "skate where the puck is going to be, not where it has been."
So where is the market headed in the greater Washington, D.C., area? Urmi Joshi, a graduate of Georgetown University's Master's in Real Estate program, thinks she knows—at least for one market segment. For her recent Capstone project, she proposed converting a large seven-story apartment complex on Arlington's Columbia Pike into a luxury rental development aimed at "active seniors," those aged 55 to about 74.
A New Way to Retire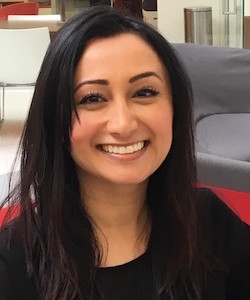 Joshi has a lot more in common with her 20- and 30-something peers than with the Baby Boomers in her target market, but she sees in them a housing need that is only going to grow.
"The younger area is really the Rosslyn-Ballston corridor," she said. But just a few miles away is a diverse urban neighborhood that could appeal to seniors who aren't keen on moving to a retirement enclave in the suburbs.
"Older adults don't want to be segregated," Joshi said. "They like interacting with different generations and being in a community."
A Growing Market
As the culmination of the Real Estate program, the Capstone combines all the diverse skills of the field, from analyzing a local market, to dealing with complex zoning issues, to setting up a viable financing plan.
"It's a great way for students to put to use all the different skills they learn in the program," said Glenn Williamson, the program's Faculty Director.

Of course, the Baby Boomer generation is aging rapidly. But while Arlington's population is growing in all demographic categories, there is a vast middle- and older-age group that is not being well served, Joshi said. Multifamily apartments and condominiums are marketed to those 35 and younger; and independent and assisted living facilities are available to those over 75. What's needed, she said, are more places for those in in between, and particularly the 55–74 age group she wants to target.
After searching for existing properties to renovate, she found a candidate on Columbia Pike, a rapidly developing residential and commercial corridor that the county is developing into a walkable, urban community. Home to more than 50 restaurants, bars, coffee shops, and other small businesses, it's the kind of place that empty-nesters and retirees might want to explore—without the hassles of owning a house or dealing with a yard.
Old Idea, New Twist
Joshi's plan would take the existing 263-unit rental apartment complex, built in 1961, and rebrand it as "The Active Peaks," an "age-targeted luxury multifamily" development. The refurbished complex would have a renovated lobby, front desk, and corridors, and a new café by the existing Olympic-sized pool. Each unit would receive more than $15,000 in renovations, and rents—now 15 to 24 percent below those of comparable renovated properties in the area—would be raised about 19 percent, or $400 per unit.
Rather than make the facility age-restricted, Joshi opted for "age-targeted," an important distinction. That allows it to market to the targeted group of seniors but not necessarily rely on them to fill all the units. The project could also attract young families and millennials, many of whom could afford the higher rents if they got a roommate or two.
Williamson likes the way Joshi took a concept usually applied to young people—rental units in vibrant urban environments—and applied it to another demographic.
"What she did here is very clever—taking something from one context and applying it to another," Williamson said. "That's a classic real estate idea."
Learn more