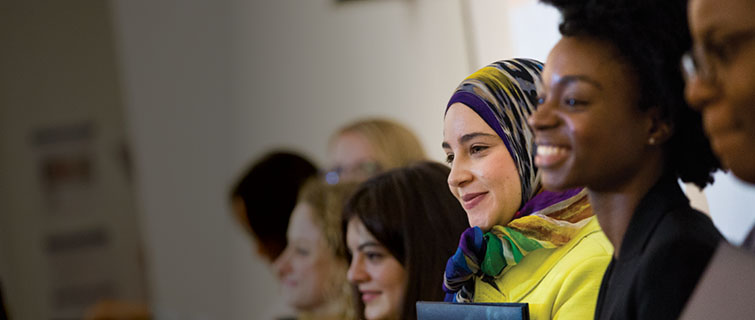 Students from the Spring 2016 Cause Consulting course applaud their classmates as they receive diplomas.
As Georgetown University's unique and groundbreaking Center for Social Impact Communication begins its ninth year at the School of Continuing Studies, it is celebrating its successes—among them providing millions of dollars in pro bono services to nonprofits and socially responsible businesses—by expanding its mission to meet the needs of today's social impact practitioners and the work they help to advance.
Expanded Mission
The Center's expanded mission and new website might seem like a minor change on the surface—after all, its core work remains. If anything, it's more committed than ever to conducting applied research into how organizations can achieve their missions through integrating marketing, communication, fundraising, and journalism strategies; educating students and professionals interested in social impact; and engaging with an expanding community of stakeholders through executive education offerings and presentations.
But the expanded mission is also fitting because of the profound changes happening within the diverse social impact field and those who work within it. In the past, practitioners within nonprofits and socially responsible businesses were frequently working in siloed departments of marketing, communication, or fundraising, with limited collaboration.
Those job titles still exist at some level, to be sure, but ever-increasing global competition and the resultant need for innovation, creativity, and efficiency has spurred organizations to blur these functions—to integrate different, but related, jobs and break down unnecessary silos. In today's environment, people achieve more when they collaborate and work together toward a common goal. And organizations of all types—not just nonprofits, but also the private and government sectors—are driving social impact.
At the Center, there is even a name for this phenomenon: "Embracing the blur for good."
"The concept of the 'blur' was built into the original design for the master's in Public Relations & Corporate Communications, with the Center as the heart of the program," said Denise Keyes, Senior Associate Dean for Georgetown's Division of Professional Communications and the Center's Executive Director and Founder. "But with the growth of new programs, and deeper integration of the curriculum within the Division, it was clear that we'd outgrown the name. Now the Center can serve as beacon for the future, and I couldn't be more excited."
The Potential for Creating Good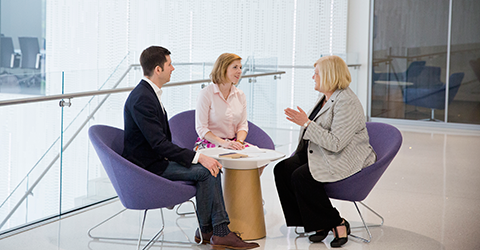 Georgetown University's Center for Social Impact Communication team (from left): John Trybus, Bridget Pooley, and Denise Keyes.
Keyes created the Center in 2008 in tandem with the Public Relations & Corporate Communications program, which has since expanded to serve students from the Journalism, Global Strategic Communications, and Integrated Marking Communications programs. Its academic centerpiece is the Cause Consulting course, which is currently taught by John Trybus, the Center's Managing Director.
Cause Consulting enables a cohort of students to work collaboratively in small consulting teams to provide integrated marketing and communications services for social impact clients, including nonprofits and socially responsible businesses. The class works through a service-learning model, which emphasizes building and reflecting on emotional intelligence skills. To date, the class has trained nearly 200 cause consultants, served 71 clients, and provided close to $3 million in pro bono services.
Through their Cause Consulting class, students Megan Honour (G'16) and Eliana Bardi (G'16) worked with the United Nations Foundation to improve the outreach strategy around its annual Social Good Summit. Convening a community of global leaders and grassroots activists, the conference addresses climate change and reducing inequality. The goals are immense and multifaceted, Honour and Bardi said, and it was challenging to integrate strategies to reach multiple audiences and goals.
They took Trybus's advice when confronting these challenges.
"Instead of solving every challenge that they have," Honour said, "solve one really, really well."
Honour and Bardi used techniques they learned in the course, such as "North Star elastic messaging," to describe their objectives. "North Star" refers to a single message that is strong and constant. "Elastic" describes a message that can be presented in multiple ways, depending on factors such as the culture, demographics, and priorities of a particular audience.
Bardi explained the challenge: "How do you have only one message that is distributed to different audiences on different platforms, but is always talking about the same thing?"
Bringing Values to Life
In addition to educating marketing, communication, fundraising, and journalism students, the Center has conducted original applied research in subjects such as social impact storytelling and digital persuasion, with new topics underway. There are also plans to offer executive education opportunities in the future.
These activities resonate with practitioners of all ages and functional areas, who expect more from their professional education than a narrow guide to career advancement, and more from their working lives than simply a paycheck.
"We're living in a 'purpose revolution,'" Trybus said. "Students, and especially millennials, aren't just thinking about making money in their careers, but also how they can use these careers to advance a larger social purpose. 'Men and Women for Others'—this fundamental Georgetown value—is inherently linked to the Center's mission. We bring it to life."