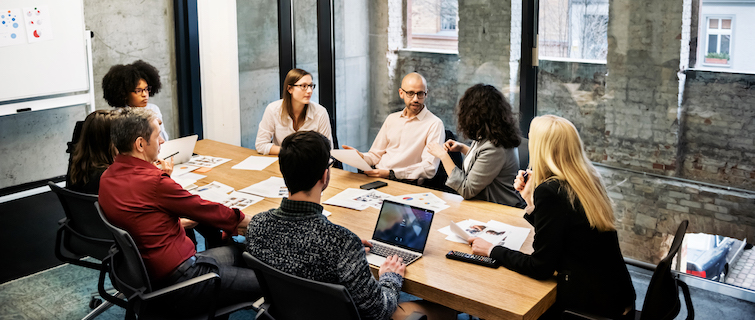 Georgetown University's School of Continuing Studies (SCS) recently added a new Master's in Design Management & Communications to its award-winning portfolio of professional communications programs. This flexible online master's degree will accept its first class of students in Fall 2018.
Collaborative Leadership
The Design Management & Communications program welcomes students across a broad spectrum of disciplines—from graphic designers to analytical problem-solvers—with the goal of exploring a holistic approach to design management. Led by faculty who are both industry experts and seasoned academics, the program's rigorous courses will provide students with a rich and relevant learning environment.
Faculty Director Wendy Zajack views this diversity of perspective as an exciting opportunity to turn the classroom into a functioning laboratory.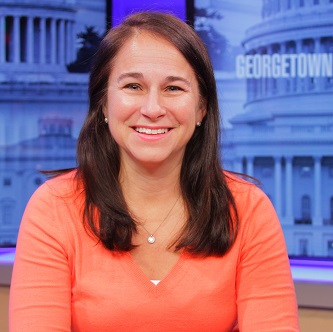 "The reality of our industry is that we all come in with different backgrounds," she said. "This program is the best place to mix it up. It's a safe place to explore yourself, to push yourself; it's a safe place to fail, and to learn from those failures."
Students will graduate from the Design Management & Communications program with not only a well-rounded understanding of the challenges of the design process, but also the confidence to lead a design project from development to marketing and beyond.
The program's focus on design thinking methodology extends beyond the world of graphic or web design and into a comprehensive practice of iteration, brainstorming, and problem-solving that is as applicable at the drafting table as it is in the boardroom.
"One great thing about the creative industry," Zajack said, "is that people realize that tactics that have worked well in one profession can translate seamlessly into other industries."
Building on Past Success
Leveraging SCS's existing wellspring of expertise in professional communications, the Master's in Design Management & Communications benefits from the strength of its sister programs in Public Relations & Corporate Communications, Journalism, Global Strategic Communications, and Integrated Marketing Communications. As part of this vast network of communications professionals, students will gain valuable industry insights across a range of specialties and have the opportunity to strengthen their skill sets in real time.
Framed in a nearly 500-year-old Jesuit tradition, Georgetown SCS's newest program also maintains a strong focus on ethical leadership and decision-making.
"The visual connection is the deepest connection we have as human beings," Zajack said. "Georgetown teaches people to cut through the noise and explore how to make decisions from an ethical perspective. Here, there is an opportunity to utilize good design to change people's mind or change the world."
The Master's in Design Management & Communications has begun accepting applications for Fall 2018.
Learn more