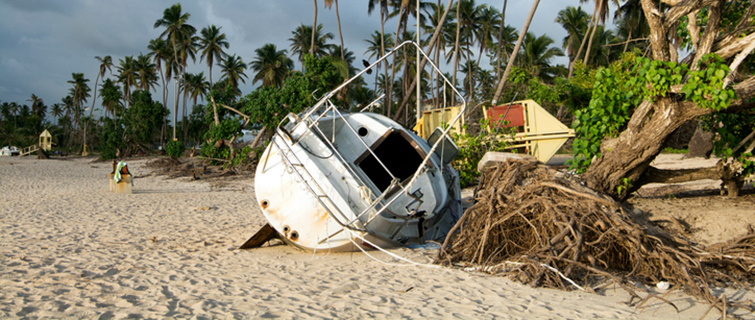 Asel Villalva had one week of training before she was sent to Puerto Rico to register survivors of Hurricane Maria, the Category 5 storm that made landfall last September and was one of the most devastating hurricanes in the island's history.
At her regular job in Washington, D.C., Villalva is a program analyst for the Federal Emergency Management Agency's (FEMA) Office of Policy and Program Analysis, a multifaceted position that involves working with seven FEMA divisions. After Hurricane Matthew in 2016, she took assistance registrations from disaster survivors over the phone from Washington, but this was her first time working as a disaster assistance specialist in the field.
"I chose this specifically because I really wanted to help the survivors," said Villalva, who is originally from Kyrgyzstan and is now a student in the Georgetown University Master's in Emergency & Disaster Management program. "I wanted to be a much help as possible."
A Devastating Hurricane Season
The 2017 Atlantic hurricane season was one of the most volatile on record, with 17 named storms and six major hurricanes, including Harvey, a Category 4 storm that flooded Houston less than a month before Maria, and Irma, a Category 5 hurricane that also struck Puerto Rico and the Southeastern United States. At least five current students and alumni from Georgetown's Emergency & Disaster Management programs responded to one or more of the hurricanes, most as FEMA employees and at least one with the U.S. Coast Guard.
Villalva wanted to go to Puerto Rico, specifically, because it was a Puerto Rican American who had helped her learn English when she lived in South Korea in 2006. Three years later, she moved to the United States.
At her training in Alabama, Villalva's instructor emphasized one point in particular to all FEMA disaster responders and volunteers, who hailed from agencies as diverse as NASA, the Transportation Security Administration (TSA), and U.S. Customs and Border Protection (CBP). Take care of yourself, instructors stressed. Seeing so much hardship and destruction will make you want to stretch yourself to the limit, but no one will benefit if you become sick or injured.
Villalva worked mostly 12-hour days (from sunup to sundown) during her month on the island. Most days, she led a small team of agency people and local Spanish translators, driving from their base in the southern city of Ponce to surrounding towns, some in mountainous regions. There they would set up shop in a church or community center, then register the residents and ask them what they needed—water, electricity, food, and fuel being the among the biggest necessities. The weather was hot and humid, often rainy. Some roads were damaged or impassible.
The work was often emotional; there was crying and a lot of frustration, but also a sense of resilience.
"They felt very hopeful when they saw us in their community," Villalva said. "They even called us angels, something like 'disaster angels.'"
When All Systems Are Down
JB Cuartas is chief of the Operational Planning Branch for FEMA's Region II, which includes New York, New Jersey, the U.S. Virgin Islands, and Puerto Rico. He deployed to Puerto Rico before Maria hit, coming directly from the National Response Coordination Center in Washington, D.C., where he was helping to coordinate response to Hurricane Irma.
Cuartas rode out Maria at a FEMA facility in Caguas, northwest of San Juan, before assuming a position in San Juan as an advisor to the Federal Coordinating Officer for Operations. The storm hit the building with winds of 155 miles per hour, two miles per hour shy of a Category 5, but, in effect, the same thing.
"The storm was so powerful, it caused the roof to start breaking," said Cuartas, who is also in Georgetown's Emergency & Disaster Management program. "We had a couple of interior walls fall in and windows blown out. You could see a lot of tree limbs flying around the windows."
After one month of conducting response operations around San Juan, he was appointed as a geographic branch director, responsible for overseeing federal operations in 20 municipalities in the north and central parts of the island.
When responding to a natural disaster, rescue workers prepare for the disruption of perhaps four or five of what the federal government calls Critical Infrastructure Sectors, Cuartas said. These sectors include things like transportation, financial services, health care, emergency services, and government facilities.
But in Puerto Rico, all 16 of these sectors were affected
"It was probably the most complex scenario we've ever been presented with," Cuartas said. "The closest we have come to a state being unable to manage it."
Even for a hurricane as devastating as Harvey, rescue workers could use trucks to bring in supplies from unaffected areas. But, of course, Puerto Rico is an island, and that meant "it had to come by air, or it had to come by boat," Cuartas said.
In the days immediately following the storm, communications systems were so damaged that Cuartas and his team could not talk once they were out of sight of each other, so they planned to meet in person every six hours to ensure that their efforts were aligned and not being duplicated.
Some local emergency workers had it especially hard.
"The very same people we were supposed to be working with were physically impacted as survivors themselves," Cuartas said. "This was new to us."
Learn more