This story was originally published on Course Hero.
"I design my courses around questions, not textbooks," says Maria Trujillo, faculty director and associate professor of the practice for the Master's in Technology Management graduate program at Georgetown University.
As a graduate student walking into Trujillo's Information and Communication Technologies class on the first day, you will be faced with a single big-picture question that raises issues relevant to the Global South. A few from previous courses have been:
Why don't developing countries develop?
What is development and how do we measure it?
What are appropriate technologies for development?
How do we know we're making progress?
Students spend subsequent sessions breaking their question down into smaller, more scalable queries to critically evaluate and try to find answers to.
"As educators, one of the biggest challenges we face is getting students to think critically and analytically about the world's problems," says Trujillo. "I don't believe in the 'spray-and-pray' method, where I just spray my words at them and pray something sticks."
Trujillo explains that asking questions gets students immersed in and engaged with what is happening in the world in real time. Textbooks, she says, do not have all the answers—and that is why Trujillo is forcing her students to find their own.
"I come up with the questions, but you're going to help me come up with those answers."
This approach behind Trujillo's coursework was heavily influenced by her own upbringing in poverty-stricken Colombia, as well as her 25+ years as an international development consultant. An additional 3 years were spent working on a global health project fighting malaria, tuberculosis, and HIV/AIDS.
Indeed, throughout her career, Trujillo has come face-to-face with the issues of development (or lack thereof) in the Global South—and tackled many of them head-on. In 1995 she was the only woman on a team of experts who brought the Internet to Colombia, earning her the nickname "The Internet Girl."
The ripple effect that comes with technological change is widespread, and Trujillo's coursework acknowledges how development can have both advantageous and, at times, insidious results.The moral and ethical tug-of-war caused by innovation has been the driving force behind her fieldwork and what she wants to bring to light for her students.
"The questions I raise with my students are based on the problems that I lived in the field. My experience merits the way I teach it."
Specifically, communication and collaboration are vital tools for success in Trujillo's classroom. Her teaching philosophy is often guided by a Confucius quote that reads:
Tell me, and I will forget.
Show me, and I may remember.
Involve me, and I will understand.
Using this ideology, she incorporates interactive exercises into the last 30 minutes of every two-and-a-half-hour session. She employs a wide range of strategies, including board games, peer-evaluated elevator pitches, and a Double Jeopardy simulation complete with all the bells and whistles—literally.
By getting the students to verbally address global issues personally with one another, Trujillo sees the game's impact on both how well they absorb the material and on how confident they are with the subject matter.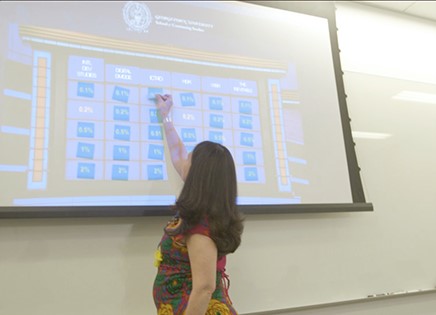 Trujillo integrates games into the classroom to keep students engaged.
Trujillo's Game Show Approach, Deconstructed
In the last weeks of class, Trujillo has incorporated a Double Jeopardy-esque simulation, in which students make selections from categories and answer queries (in the form of a question) to rack up points.
Though playing a game may sound easy, creating one was no simple task. There was the decision of what type of content to include, how to evaluate performance and its impact on the final grade—and then, of course, there are the props, which are essential for bringing the Trebekian set to life on a college campus.
"I had to buy little bells for the contestants and a horn for me to blow when time was up," laughs Trujillo. "And then I used my 12-year-old daughter and my husband as guinea pigs for my questions [to see] whether the format would even work in a classroom."
To Trujillo's surprise and delight, it did.
It is more than just a game for students—they know it can have a meaningful impact on their final exam. To be strong competitors, they must review all the materials they have read throughout the course, including multiple books. And they must engage on game day. The combined performance of the students has the potential to lift everyone's final exam grade.
Trujillo admits that, while she was thrilled with the game's impact in the classroom, she was concerned with how the university would react.
At the end of the course, however, Trujillo's concern was extinguished by the high praise students gave her in their course evaluations of the class.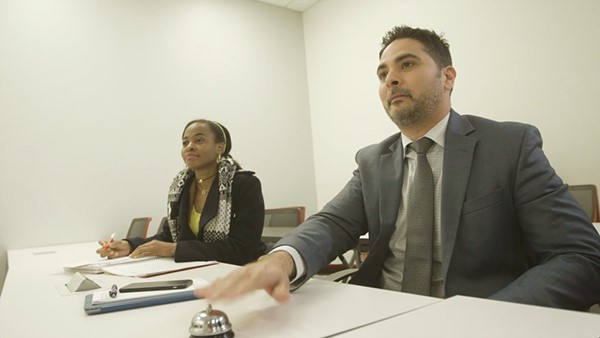 Students put their minds to work in Trujillo's classroom.
The Bonus Round: Changing Students' Trajectories
For many of us, it comes as no surprise that games in the classroom are deemed more fun and enticing for students than reading a textbook—but the real shock for Trujillo came with the news that several of her students were changing their life trajectory as a direct result of the class.
"In most classes, you may have one or two students tell you, 'That was a great class,'" says Trujillo. "But I didn't expect 3 out of my 8 students to tell me that the course had changed their life."
One told her they decided to do a PhD in International Development, while another told her he was quitting his job and starting a data start-up company in Africa.
This was quite the change in tone from Day One, when Trujillo says students were hesitant about integrating games into the class. "It took three sessions for me to convince them that what we were doing was going to work," she explains.
At the end of the day, minds had been enlightened. Students were asking—and answering—questions about the world. And they were having fun doing it.
Ultimately, Trujillo's teaching method seems to have made everyone a winner.