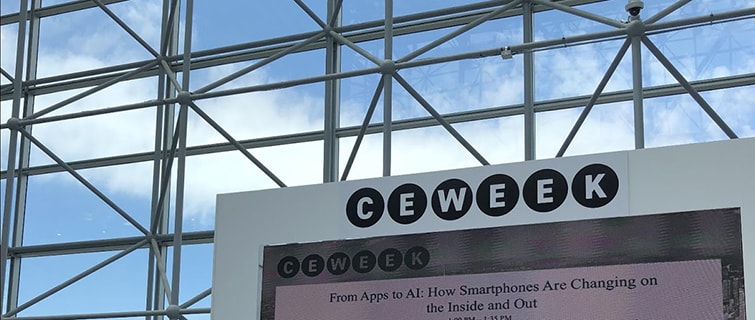 Adapting to change comes to the forefront at annual gathering of technology companies in New York City.
On a sunny and warm Wednesday afternoon, Noel Lee, the founder and CEO of Monster Inc., one of the world's leading audio companies, rides his Segway into the Jacob K. Javits Convention Center to discuss the future of his company with retailers, technology evangelists, and the tech press—and to share his thoughts on how 2018 will be a defining year for his nearly 40-year old business.
A bustling conference room during Consumer Electronic (CE) Week NY turns into a nearly hour-long conversation of innovation, entrepreneurship, and brand management, as Mr. Lee captivates the audience by showing the Monster Super Bowl ad, playing music through his slew of newly imagined devices, and mentioning his new IPO/ICO while the non-quiet period allows him to talk about it. Mon$ter Money, which will be available in 6–8 weeks, is the first cryptocurrency to be legitimized by the U.S. Securities and Exchange Commission (SEC). Lee conveyed a message of change in his company (the team has new faces), a change in his products, and more importantly, a change in the business line by including cryptocurrency as one of its activities. Pivoting comes naturally to Monster Inc.
"What do you want to highlight from today's presentation?" we asked.
"The entrepreneurial spirit is what's important," Mr. Lee replied. "That's what we wanted to communicate with the Super Bowl commercial—the sense of fight, rejection, and overcoming obstacles that entrepreneurs have to deal with."
CE Week NY, a cousin of the larger Consumer Electronics Show, is part trade show, but doubles as an event where the brightest minds in the industry come to discuss what's next and the evolution of consumer-centered design. The conversation during the "From Apps to AI: How Smartphones Are Changing on the Inside Out" session led to a discussion of turning phones back into a tool rather than an all-encompassing extension of the user's hand. A "Swiss Army knife" analogy was used to refer to a phone that has many potential uses but is used only for a few, and members of the panel suggested we would see more specialized mobile devices, otherwise known as purpose-driven mobile devices, in the future.
An area where AI has made a huge impact is computational photography on mobiles. New devices like the iPhone will mimic professional camera behavior and allow you to edit photos and videos—unprecedented technology that offers exciting possibilities. Many of the other products on display at this year's show focused on human-centered design and products that will auto-adjust for the user, such as true wireless earbuds.
"With the rapid growth of battery life and new outlets for sales, the market is truly expanding in exciting ways," said Tom Campbell, advisor for Georgetown's Master's in Technology Management program, CTA board member, and CTO of Video & Audio Centers.
The promise of 5G was revisited again. Not only will we be able to decrease the latency (low ping times) and have 25 percent faster speeds, but we will also have a longer battery life. Perhaps even more exciting is that with 5G we will be able to bypass Wi-Fi altogether if the pricing is right. Right now we will have to wait for the promised transition to 5G, while credit card networks still use 2G and are only just starting to use 3G.
One of the most innovative products we saw at CE Week NY was a line of HP-branded mobile projectors developed by GAC Technology Group. These lightweight, wireless-enabled projectors marry the best of software and hardware innovation, shrinking down a projector that can sync with your mobile phone into an item that can fit into a pants pocket. The applications seem endless, including the ability to project student/instructor presentations from mobile phones using the Omni Projector, which offers audio capabilities for microphone input. After you consider mobile's ubiquitous presence, adapting small projectors to mobiles seems like an obvious choice, but seeing it in action is a true wonder.
In sum, what impressed us most was technology that connected the dots, that pivoted, and that filled an unmet need: the true market disruptors.