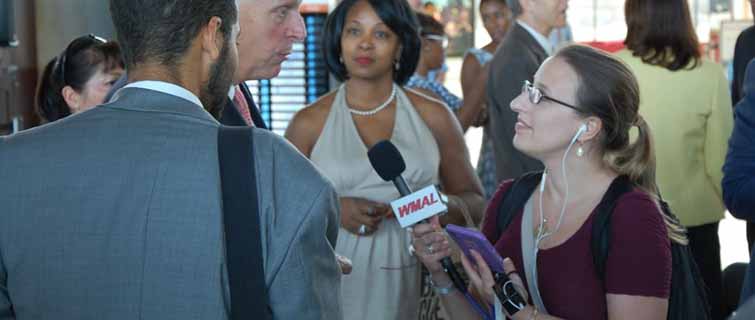 Just for a moment, the question popped into her head:
"What am I doing this for?'
What Heather Curtis was doing, on this cold, drenching day in early April, was standing under a statue of Martin Luther King Jr.—it was the 50th anniversary of his death—and trying mightily to keep the rain out of her cellphone while she edited the interview she had just recorded.
Most people sheltered indoors that day, but not Curtis. A reporter for WMAL radio in Washington, D.C., she was assigned to do a "man-on-the-street" interview at the King memorial.
So, what was she doing this for? Why was she in this fast-paced, often pressure-filled profession that promises long, unusual hours and assignments that have you approaching strangers in the rain and hoping they'll be nice about it? Curtis' answer is very simple: Because she loves it.
'Bitten by the Bug'
Curtis is an alumna of Georgetown's graduate Journalism program, but her interest in radio started years earlier as a freshman at Ithaca College in Ithaca, New York. She remembers the first time she read the on-the-hour roundup of national, state, and local news.
"I was kind of bitten by the bug as soon as I did my first newscast," she said.
There was something almost uncanny about speaking into a microphone and knowing that thousands of people—somewhere—were paying attention.
"It's all very exciting, and you have no ideas who's listening," she said.
If you are interested in people and what they do, if you're curious about how things work, if you can, even for just the span of an interview, share someone's passion for a certain subject, cause, or pursuit, chances are you would make a good reporter.
A native of Long Island, Curtis got her start in radio by reporting for stations in Martha's Vineyard and Cape Cod. While attending Georgetown from, she worked as a field reporter and editor for CBS Radio's All News 99.1 WNEW. After more than two years there, she moved in 2015 to her current job as a reporter and weekend news anchor for 630 WMAL.
Curtis records three local stories from the Washington, D.C., metro area on most days. These days, she also writes for social media platforms like Twitter and posts stories on the web. WMAL's talk show programming is conservative, featuring Rush Limbaugh and other commentators from the right, but Curtis says there is a "wall" around its news broadcasts that keeps talk radio views away from the newsroom and allows it to maintain its objectivity.
Holding Its Own
Radio has been around for more than a century, and with each innovation in communication, from television to the internet, it's had to fight to maintain its audience. Yet despite this competition, more people continue to listen to AM/FM radio each week (93 percent) "than watch television, or use smartphones, tablets, or computers," according to a recent Nielsen report.
Curtis believes that radio can remain competitive, in part, because of its simplicity and convenience.
"I think there is a place for radio because it's free and people will listen to it while doing other things," Curtis said. "If it's in your car, you're going to listen."
Breaking news stories can be emotional, and there's a lot of sadness that comes with covering, say, a big disaster. But Curtis also gets to do rather off-the-wall, "fun" stories, such as profiling the University of Maryland music professor, who, in addition to being a world-class cellist, writes music for cats as part of his research into animal cognition. (One observation: Purring is generally well received.)
Not all stories come with that kind of ready-made soundtrack, so a radio reporter needs to be creative, which, she said, is part of the challenge—and the fun.
"I love radio reporting because it gives me the opportunity to use words and sounds to bring people to the scene of a story," Curtis said. "Even though I'm reporting facts, I have the chance to be creative in how I use sounds and words to present them."
Learn more