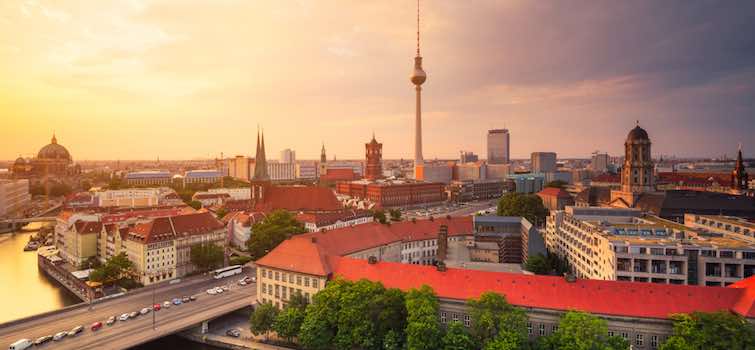 Designed by celebrated architect Daniel Libeskind and the firm Artchitecture, ZLOTA 44 rises 52 stories above the street—sleek, modern, technologically advanced, and one of the tallest residential buildings in Europe.
The luxury skyscraper wasn't built in London, Frankfurt, or any of the other European cities known for their dramatic architecture and impressive skylines: No, it towers over Central Warsaw, and it's symbolic of the cultural and economic boom that has awakened this city of 3 million after years in the shadow of the Iron Curtain.
"Warsaw is coming into its own," said Glenn Williamson, faculty director for the Georgetown University Master's in Real Estate program. "It's become a very modern city."
Rejoining the West
In early October, Williamson, co-faculty Dietmar Georg, and nine Real Estate students traveled to Germany and Poland to explore the real estate market in Central Europe. No trip to the region would be complete without a visit to Expo Real, the massive international trade fair that takes place in Munich every fall and attracts more than 45,000 attendees from 35 countries. But just as intriguing for Williamson and the students was their visit to two cities—Warsaw and Berlin—that have recently emerged as centers of real estate investment.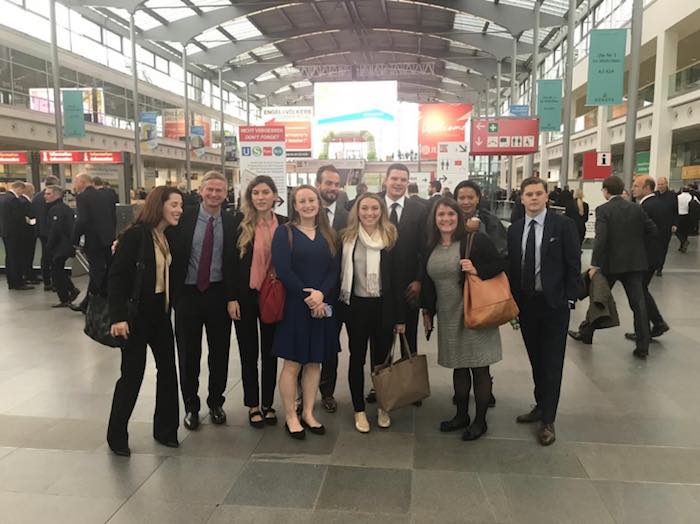 Georgetown Real Estate students at the 2018 Expo Real in Munich, Germany.
Both cities suffered under communist rule until the iconic year 1989, when East Berliners breeched The Wall to join their compatriots in the West, and Polish union leaders and pro-democracy advocates pushed out General Wojciech Jaruzelski and his repressive regime.
Reunification with Western Europe wasn't easy after years of state control, disinvestment, and cultural isolation. But now, after nearly 30 years, Warsaw and a united Berlin—ideally situated in the center of the new Europe—are luring talented, well-educated young people with their relatively low cost of living, and attracting investors.
"Berlin has become a melting pot in Germany, attracting a young and English-speaking population of IT and other professional workers from across Europe and all over the world," Williamson said. "The business language there is English, and the city's excellent infrastructure of subways and trams along with miles of bike lanes makes it very easy to get around this large and spread out city. Our group opted for bikes over busses to see the city."
Berlin is also poised for development. For years, it's had a kind of artsy, countercultural feel that has attracted a young, well-educated, and creative if not particularly affluent population. Think Austin in its bohemian heyday.
Ironically, despite its reputation for precision manufacturing, Germany is not similarly renowned for its IT leadership, Williamson said. But that's changing as Berlin attracts more high-tech firms to go with its young, increasingly tech-savvy workforce. And there is plenty of room for growth. It is estimated that Berlin, with 3 million residents, already has the infrastructure to support 5 million.
Attracting High Tech
A similar dynamic is happening in Warsaw and its environs. On their trip, the class toured ZLOTA 44, which has nearly 300 luxury apartments equipped with home management systems that residents can use to remotely control lighting, heating and air conditioning, and other functions. Also on the itinerary: a trip to the new Google campus in the vibrant Praga District, and a visit to the massive new Amazon warehouse in the city of Poznan, located halfway between Warsaw and Berlin along a modern EU-funded highway, which employs 3,000 workers and serves all of Central Europe.
One possible impediment to Poland's continued economic growth is its recent feud with the EU under the governance of the nationalist Law and Justice Party, which has also been launching strident attacks on the independent judiciary. EU funding for infrastructure has supported Poland's rapid rebirth. But even amid political disputes, Poland's economy is thriving. According to a recent World Bank report, "Poland's economic ascent has been remarkable," and its unemployment rate, at just over 4 percent, is the second lowest of the 28-member European Union.
No longer an "emerging" economy, Poland, said Williamson, "has emerged."
"If you ask a Polish person, they'll tell you this is the heart of Europe. It's not on the edge of anything."
Learn more