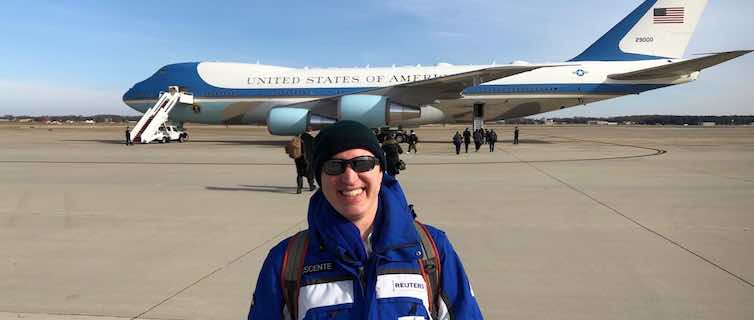 On his first day as a White House correspondent, Jeff Mason took a picture of himself outside the gates of the famous mansion.
He'd been a Fulbright scholar in Germany, covered the European Union as a reporter for Reuters, and worked for the news service covering then-senator Barack Obama's first national campaign.
But none of this would compare to covering the president.
"I was excited," he recalled. "It was the White House."
Then he saw where he would have to work: a small, closet-like "booth" behind the White House press room.
"I had to sit in this little space, with no air and no light… for how many years?"
Make that 10 years and counting that Mason has been stationed, for at least part of the day, in that cramped, dark, and windowless space in the center of the White House press quarters. And he has no plans to move out now.
A Service to Democracy
"The greatest thing about covering the White House, quite literally, is you have a front seat to history," said Mason, an instructor in Georgetown University's graduate program in Journalism who regularly appears on MSNBC and other network news panels. "That's fun, and it's a privilege."
Independent media also provide an indispensable service to democracy and free expression at a time when these principles are being challenged by elected leaders in places like Poland, Hungary, Turkey, and Brazil, and when, in this country, President Trump repeatedly refers to mainstream reporters as "the enemy of the people" and purveyors of "fake news."
The scruffy White House press quarters may feel miles away from the grandeur of the main house and the aura of the West Wing, but that's fitting too because the press functions best when it's truly separate from the powers it covers.
The administration learned that in 2017 when, according to a Washington Post report, it tried to enlist Mason, then president of the White House Correspondents' Association (WHCA), to criticize the work of other reporters.
"In one case, and I won't say the name, but in one case, I was asked, on behalf of the WHCA, to release a statement criticizing a reporter's story," Mason said at an event held at the White House Historical Association. "And I said, 'No,' because that's not what we do and that's not something we would ever do."
In his stories for Reuters, his frequent tweets about the president, and his appearances on TV, Mason strives for neutrality—something he also stresses in his classes at Georgetown, along with objectivity and accuracy.
What the press also should do, of course, is ask tough questions like the one Mason asked Russian President Vladimir Putin in a news conference at the Helsinki Summit in July 2018. Mason said he wasn't expecting to be called on, because he had already asked had two opportunities for question on the president's trip. But White House spokeswoman Sarah Sanders called on him.
"I asked President Putin if he wanted Trump to win the election, and Putin said 'Yes,'" Mason recalled. "It was a huge story."
Competitive but Collegial
Mason is one of three Reuters reporters covering the president. Basically, that means that wherever Trump goes one of them needs to go too. There's a lot of pressure to break stories, and a lot of downtime too, such as when the president wants to go to a restaurant. Trump is not particularly fond of dining out, but Obama was, and on those nights Mason and the other reporters would have to wait in a van in the presidential motorcade for two or more hours.
All that time spent together makes the White House press corps a pretty collegial group, Mason said. It's an intense job, and they do, of course, compete. But they also bond over the highs and lows of an assignment that is both demanding and rewarding—and like no other job in the world.
"You don't have to wake up and wonder: 'Is there going to be a story today?'" Mason said. "Because there's always a story."
Learn more