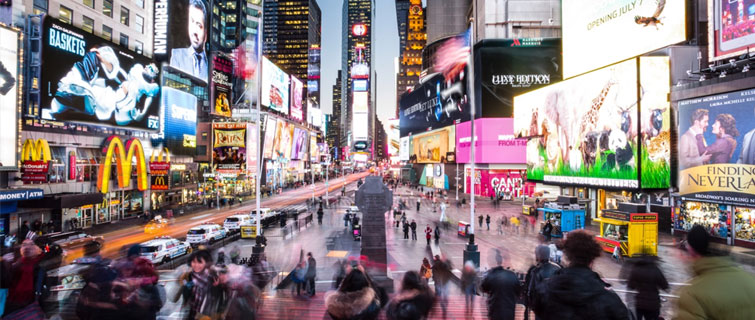 After almost two years, the ad still doesn't make any sense.
To summarize, briefly: One by one, a soulful cellist, a frustrated photographer, and a bored supermodel join a street demonstration for … well, it's not exactly clear what the demonstration is for.
But after Kendall Jenner (the supermodel) strides to the front of the crowd and hands a policeman a can of Pepsi—and he takes a sip and smiles—everyone cheers, and, presumably, something very big has been accomplished.
The London Independent called it "possibly the worst commercial of all time," which seems a bit much, considering lots of people found it mildly entertaining and inoffensive at worst. But context is everything, and others viewed the ad as trivializing some very real and painful protests, most significantly, those led by the Black Lives Matter movement against police shootings.
"One of the key issues was that it made light of a larger movement that was happening," said Sultana Ali, an instructor in Georgetown University's graduate program in Public Relations & Corporate Communications. "There was an insensitivity to it and a total miss in terms of understanding."
After an outcry, Pepsi initially defended the ad, then quickly reversed course and pulled it.
Should Companies Take a Stand?
So what's the takeaway from all this? Is it that big brands should steer clear from talking about or even referencing important social issues? In fact, according to Ali, it's quite the opposite. Viewers want companies to take stands on social issues—two-thirds said it was either "very important" or "somewhat important" in a Sprout Social survey—they just need to be more savvy about it than Pepsi.
Last year, Nike created an ad that was as controversial as Pepsi's to some. But unlike the soda maker's vague reference to demonstrations and protest, Nike signaled just where it stood by featuring Colin Kaepernick, the former San Francisco 49ers quarterback who sparked a culture war after sitting, and later kneeling, during the national anthem to protest racial injustice.
Now comes the widely viewed commercial by Gillette, which takes on the explosive topic of "toxic masculinity" in the #MeToo era.
"Is this the best a man can get?" the voiceover asks, repeating Gillette's longtime slogan as the ad shows images of a boy being chased by other boys, even younger boys fighting, and women being sexually harassed and patronized. The ad also mentions the allegations of sexual assault that have surfaced recently as the result of #MeToo.
In response to #MeToo, some men have changed the way they act and talk, the narrator concludes. "But some is not enough—because the boys watching today will be the men of tomorrow."
The backlash was swift—and brutal. Critics accused Gillette of blaming all men for the actions of some. There were calls for a boycott of Gillette products. And on YouTube, the ratio of "dislikes" to "likes" was an unprecedented 2:1, according to the website Tubular Insight.
Did Gillette Get It Right?
So did Gillette make a big mistake? Actually no, Ali said. No company wants bad reviews, but they do want to get noticed; and Gillette got noticed. Within three days of its release, it had attracted 14.5 million views on YouTube, Tubular Insight said.
Moreover, Gillette surely knew the ad could alienate older and more conservative men, but it was willing to accept this in order to attract a more important demographic: millennials—of both genders.
"Millennials are the largest generational block in the labor force," Ali said. "And they're going to have more wealth and power in the decades to come."
The same thinking applies to Nike and its slogan for the Kaepernick ad: "Believe in something. Even if it means sacrificing everything." Certainly, it alienated some older and more conservative viewers. But according to the marketing agency Crimson Hexagon, only 25 percent of people who discuss Nike online are over 35. Like Gillette, Nike is counting on its younger demographic.
For a socially conscious ad to be effective, Ali said, it must get three things right: It must accurately represent its intended audience, clearly acknowledge the issue presented, and feel authentic. The Pepsi ad missed in each of these areas; Gillette seems to have hit them all.
"I think it's a very compelling and moving work," said Catherine Copley, an instructor in Georgetown's graduate program in Integrated Marketing Communications (IMC), when asked about Gillette's ad. "Taking stands on such polarizing issues can be disruptive and effective. I like the strategic move."
But what about alienating all those Baby Boomers?
"Exactly," Copley replied. "You've laid down the exact strategic plan. Gillette doesn't want to become Oldsmobile—old-fashioned and irrelevant."
Are We Really Ready for This?
But not everyone is convinced. Andrea Koslow, Copley's colleague in the IMC program, contrasted Gillette's ad with some of the ads in Dove's iconic "Real Beauty" campaign. That campaign was built on a sturdy consumer insight—namely, that most women didn't feel beautiful just as they were.
"For many years, Dove's Real Beauty campaign was an absolute home run because it aimed at a target with a message that was completely relevant and deeply, deeply resonant," Koslow said. "They knew that the content truly had significance with the target consumer."
By contrast, Gillette's ad could go either way, Koslow said.
"Is our culture ready and open for the message about toxic masculinity in the first place?" she asked. "Does an ad campaign mock the seriousness of the issue? I don't know the answers to those questions. I think time will tell."
When Koslow asked those same questions in her IMC Campaign Planning class, largely populated by millennials, they had no problem making a prediction.
"The big question from a lot of brands is, if all else is equal, 'Will consumers choose us if we take a stand?'" Koslow said. "And what I'm hearing from students is, if their taking a stand is the only difference between one product and its competitors, they will."
Learn more