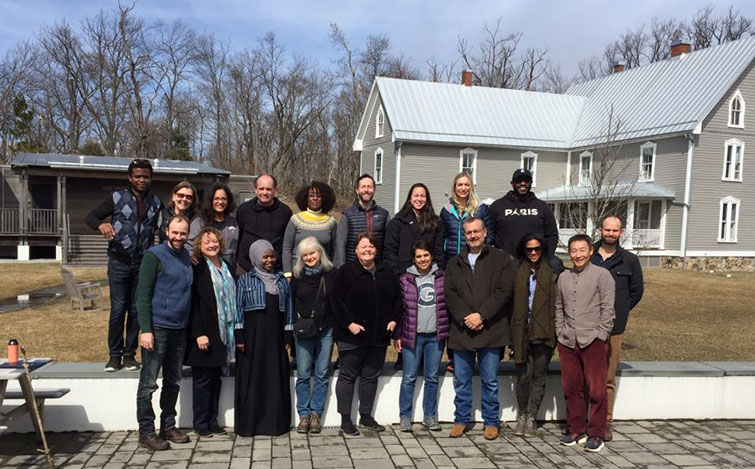 Who are you? What communities in your life make a claim on you? What are your hopes and dreams as a student at Georgetown's School of Continuing Studies?
These were the questions that framed the second annual SCS student retreat from Saturday, March 9 to Sunday, March 10, 2019 at Georgetown's beautiful Calcagnini Contemplative Center in the Blue Ridge Mountains of Virginia. Students were invited to answer questions about their identity, communities, and education in advance of the retreat to inspire a deeper reflection on their personal narratives. During the retreat, students pondered their answers about how they make meaning of the world as they progress through their time at Georgetown. Framed as an invitation to "Explore Your Sacred Story" and rooted in Ignatian spirituality, the retreat provided a welcoming space for people of any faith tradition or none at all.
The retreat attracted 16 SCS students from 11 different programs who made the journey to Calcagnini. According to Jamel Langley, master's candidate in the Integrated Marketing Communications program, the short break from daily routines was refreshing and needed: "The retreat enabled me to take time away from the hustle and bustle of D.C. and provided me with an opportunity to reflect on my journey leading up to becoming an SCS student and how I will take my education with me after I leave Georgetown." Teresa Merz, master's candidate in the Liberal Studies program, also affirmed the welcome rest and renewal that comes with a retreat: "Juggling graduate studies with a full-time job has been both exhilarating and exhausting; the retreat was a 24-hour immersion in peace and profound inspiration in an exquisite setting. Guidance, solitude, hiking, great company: what could be more renewing!"
During group reflection, students were able to hear from classmates in other programs, a welcome opportunity to celebrate the diversity of the SCS student community. The space created on retreat also provided invaluable learning opportunities to practice active and empathetic listening, a key skill in any professional and continuing education discipline.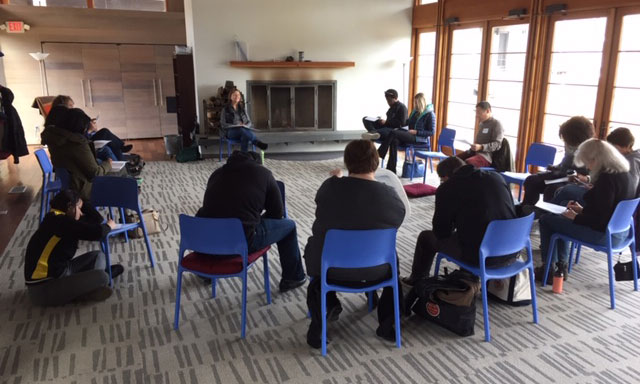 Retreats are not only valuable for their focus on the past but also on how the reflective distance from one's daily life encourages a constructive look to the future. Retreatants might ask themselves: How is this quiet time inspiring me to shape my resolve for tomorrow? In the silence of personal guided reflection, how am I being invited to make a change in my life?
Emphasis on action is a hallmark of Jesuit spirituality, which encourages reflection on our experiences in order to determine how best to use our gifts and talents in the world. Regina Bartonicek, a master's candidate in the Public Relations and Corporate Communications program, noted how the retreat shaped her ongoing journey:
"It was significant to me in that it allowed me the opportunity for self-reflection and contemplation about where I am in life and in my spiritual path and where I want to be," she said. "It also provided me some clarity on being more mindful and being more present in my everyday interaction with others."
By giving students the chance during a busy semester to explore their interior lives in the quiet and calm of Calcagnini, the SCS retreat fulfills Georgetown's commitment to "action and contemplation," a core Jesuit value in the Spirit of Georgetown that helps ensure that our activity is grounded in intentional reflection. The retreat also advances SCS unique mission to "deliver a world-class, values-based education to a diverse array of communities and individuals through their academic and professional careers."
SCS students interested in contemplative experiences should check out the variety of retreats offered by Georgetown's Office of Campus Ministry and the spiritual life activities hosted at SCS.