Spiritual Life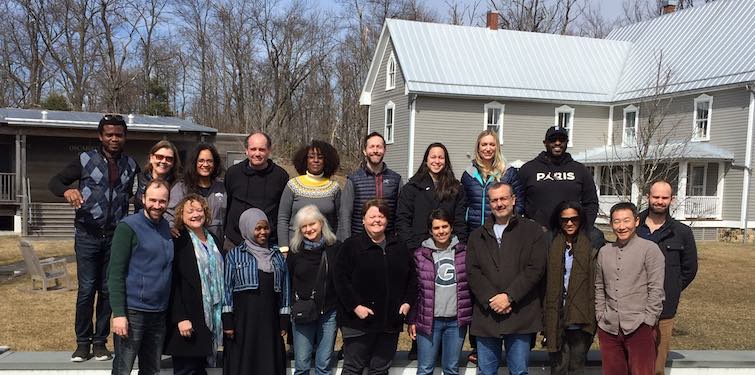 SCS students enjoy an annual retreat at Georgetown's Calcagnini Contemplative Center in Bluemont, Virginia, one of many ways of exploring meaning, belonging, and purpose at SCS.
Georgetown is the oldest Catholic and Jesuit university in the United States and integrates its mission by living out the core values of the Jesuit tradition. We are committed to an inclusive approach that respects a multitude of religious traditions and uniquely animates the Jesuit mission through courses, retreats, service learning, and religious services. Check out "Mission in Motion" to learn about the many ways that SCS students, faculty, and staff integrate mission in the life of the School.
You can participate in worship and spiritual reflection opportunities offered on the SCS campus. In addition, you are encouraged to connect with the spiritual life activities hosted by the nearby Georgetown University Law Center (GULC) as well as the Main Campus. The GULC Campus Ministry, located one-half mile from SCS, provides chaplains available to meet by appointment as well as weekly prayer and worship services and events. Georgetown's Campus Ministry on the Main Campus is home to many activities, including religious observances, meditation, retreats, and regular social gatherings. Whether you are desiring a spiritual home or a place to wrestle with questions of meaning, belonging, and purpose, Campus Ministry chaplains and staff are here to accompany you.
Please send any questions about spiritual life at SCS to Jamie Kralovec, SCS Associate Director for Mission Integration.
Spiritual Services at SCS
Catholic Mass
When: TBD (Fall and Spring Semesters)
Where: SCS Interfaith Chapel
Virtual Group Meditation
When: Monday through Friday at 12 p.m. ET
Where: Zoom (
sign up here
)
Jum'ah Prayers
When: TBD (Fall and Spring Semesters)
Where: SCS Interfaith Chapel