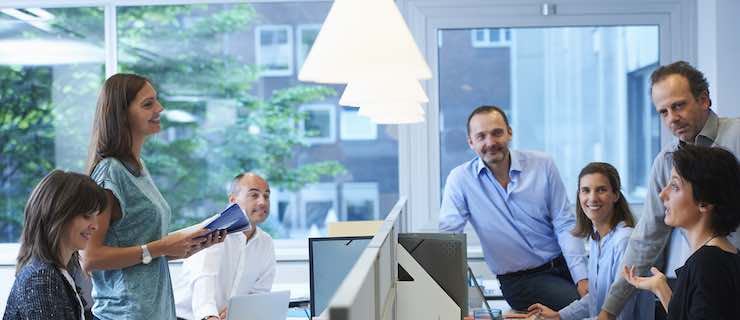 "I want to deliver business value sooner" is a direct quote I received from an executive manager and Program Management Office (PMO) leader I met with recently. This was in response to a question I posed to a group of these leaders: "In just a few words, what do you see as the biggest benefit from Agile?" I purposefully did not clarify my question with Agile Development, because these were business leaders concerned not only with product/software development, but primarily with executing their business strategy through project portfolios.
The group represents a wide range of companies we would all recognize in the technology, finance, and healthcare industries. Interestingly, each organization is at a different phase: They are just investigating Agile, beginning a business transformation to Agile, or several years into a major organizational shift and comprehensive rollout of Agile principles and methods. All are deeply rooted in—and have historically built successful delivery organizations using—predictive project management principles, methods, and tools.
I come together regularly with this group of PMO leaders to share best practices and we help each other wrestle with challenges of managing organizations committed to formal project management principles and practices. For over a year we have heard bits and pieces of Agile transformation stories, but at this meeting we dedicated a two-hour block of time to dive into the current progress of their efforts. Some of the other interesting responses to the "what are the benefits from Agile" question were:
Frequent feedback loops and faster product delivery
Speed to market and faster ROI
Customer satisfaction
Collaboration
Team empowerment, team alignment, and common focus
Practical problems raised were potential impacts on traditional funding models, how project manager job descriptions may have to change when implementing Agile, and what types of credentials the organizations would need to use to assess qualified Agile practitioners.
Despite setbacks and unanswered questions, one important message I came away with was that these were organizations committed to an Agile transformation and they were making progress related to the above responses to my initial question. Some were already seeing dramatic reductions in cycle time while others were making more progress changing attitudes and impacting their team culture. Even with setbacks and some slow progress, the PMO leaders were committed to moving forward with Agile.
My personal experience with Agile organizational transformations at IBM—and more recently, working directly with my own clients—has yielded the positive results hoped for and expressed by my PMO leader colleagues. The change to Agile can be radical and difficult at times, but if supported by senior managers and executives, such as the CxO level support we had at IBM, great benefits can be reaped.
Is your organization, like many others, considering Agile Development or Agile transformation? Take advice from these PMO Leaders: We see there are outstanding potential benefits, but as one of the PMO leaders said, "your actual mileage may vary."
Learn more