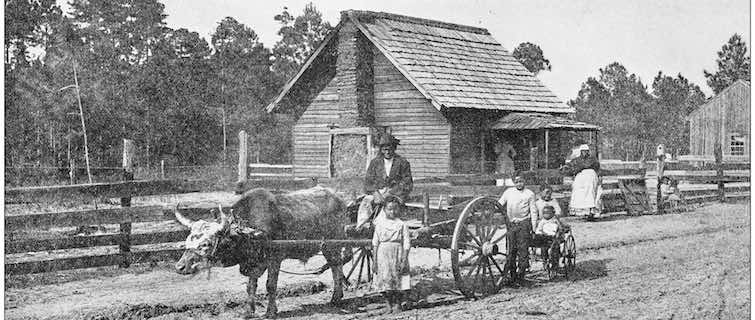 It's a touching story and a staple of the elementary school curriculum. When the Pilgrims arrived in Massachusetts Bay in 1622, they had no way of knowing that the shallow, rocky soil of New England would not support crops they had grown in England. They were saved from starvation by the Wampanoag Indians, who taught them how to plant squash, corn, and beans, and nourish the plants with fish.
Three years earlier, a similar event occurred in Jamestown, Virginia. This one involved, not Indians, but African American slaves, yet this story is not nearly as well known.
"Before the slaves arrived, Jamestown was starving," wrote Jesse Holland, who covers race and ethnicity for the Associated Press, and has written two books about African American history in and around Washington, D.C. The colonists knew little about surviving in Virginia: It was the Africans—skilled at growing crops and managing livestock—who kept them alive.
'Myths and Fables'
That the second story is not as celebrated as the first comes as no surprise to Holland, a Mississippi native whose schoolteacher parents "made sure I knew … my history." It is easier to talk about the benevolence of Indians than of the contributions of African slaves.
"As Americans, we love our myths and fables," said Holland, who teaches Journalism Ethics in Georgetown University's Journalism graduate program. "But it is hard to accept that they are myths and fables."
Journalism is about reporting facts and telling stories—tomorrow's history, as Holland calls it. The ethics part comes in through the myriad of decisions reporters make—about which facts to tell, how to tell them, and how to place those facts in a larger narrative. And, for a long time, the lives of African Americans were often misrepresented in that narrative, or left out altogether.
In 2009, as Barack Obama was preparing to be inaugurated as the nation's first black president, the Meridian Star newspaper, from Holland's home state, apologized for largely ignoring a local civil rights movement that, in the 1960s, was making headlines around the world.
"We did it through omission," the editorial said, "by not recording for our readers many of the most important civil rights activities that happened in our midst, including protests and sit-ins. That was wrong."
Missing from the National Mall
Holland encountered something similar in 2000, when he was sent by AP to cover Congress. In previous assignments in New York state and South Carolina, he made it a point to learn as much as he could about the African American history of those places. And, of course, there was a lot of it.
"But when I left Albany, New York, to come to Washington, D.C., I knew I was hitting the motherlode," Holland said during a lecture promoting his first book, "Black Men Built the Capitol." "And, like all tourists, the very first thing I did when I came to Washington, D.C., was to take a tour of the National Mall. But when I got there, I noticed something. If you just came to Washington, D.C, and just went to the National Mall you would almost believe African Americans never lived in this city."
Blacks have had a strong presence in Washington throughout the 1800s and, since at least 1950, have been the largest ethnic group in the capital. Yet on the National Mall—and throughout this entire city of monuments—Holland could find only a handful of statues that depicted African Americans.
He had also heard the stories about how slaves built the Capitol, but could find no definitive book on the topic—so he wrote one himself. That was followed in 2017 by "The Invisibles: The Untold Story of African American Slaves in the White House." The previous year, then-first lady Michelle Obama had told the Democratic National Convention that the White House was built by slaves, an assertion that The New York Times said "was met with derision and disbelief by some, who questioned whether it was true and said her choice to mention it amounted to an attempt to divide the country along racial lines."
But in truth, slaves and freed blacks did indeed build the Executive Mansion, as Holland explains in his book.
"If you think about it, it would be pretty obvious," Holland told the Times. "The White House is a neo-Classical mansion that was built in the South during slavery, and a majority of the mansions that were built in the South during slavery used slaves."
New Demographics—and a New Story
In his work for the AP, Holland has written about everything from the unlikely alliance that black Congressional leaders forged with President Trump on sentencing reform, to the history of blackface in America (at the height of the furor surrounding Virginia Gov. Ralph Northam's association with the practice), to a 50-year remembrance of a controversial interracial kiss that occurred on the hit TV show "Star Trek."
With the demographics of America changing—it is expected to become a "majority minority" nation by 2050—the stories of blacks and other minorities can no longer be ignored or neglected, and the long history of invisibility may be approaching an end.
"People are realizing that these are stories that need to be told, not 'niche' stories or 'urban' stories," Holland said. "These are stories of America, and you don't know what's going on in America if you don't have your newsroom cover these issues."
Learn more