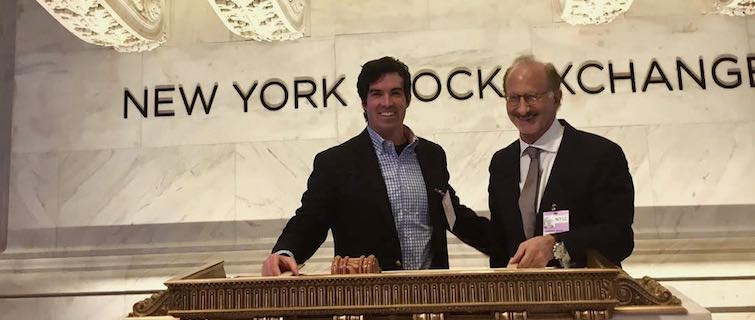 It began as a graduate school research project, then grew into an independent study.
Alex Pettee was nearing the end of his studies in the Master's in Real Estate program at Georgetown University. He used the insights from his thesis, The Modern Equity Real Estate Investment Trust (REIT), to publish research on the real estate market. This research emphasized REITs, which he called "a highly misunderstood asset class, even among sophisticated investors."
This led him to his next step: founding the market research firm Hoya Capital Real Estate. Now, five years later, he's launched his most ambitious initiative of all: An Exchange-Traded Fund called Hoya Capital Housing ETF (ticker symbol: HOMZ), which debuted on the New York Stock Exchange on March 20.
"It's not unusual for students to have a Capstone proposal implemented, and it's great when it happens." said Glenn Williamson, faculty director of the Real Estate program. "But the level of this—to be an Exchange-Traded fund on Wall Street—is exceptional."
Tracking the Housing Industry
An ETF is an investment fund that typically tracks a stock index. HOMZ is unique in that it doesn't just target spending for one market segment—say, home sales, or rental income. It examines the entire housing and home-owning sector, everything from home-building and renovations, to the rental market and home furnishings, to housing-related retailers, such as Lowe's and Home Depot.
There are 100 names listed in the fund, which together represent the performance of the entire U.S. housing industry and related sectors. The index is divided into four housing industry segments, weighted based on their relative contribution to GDP. 40 percent of the index comes from REITs.
At Georgetown, Pettee was fortunate to have Jonathan Morris, a former partner at Boston Properties, teach his REIT class and serve as his Capstone advisor and mentor.
"He taught me so much of what I know about REITs and real estate," said Pettee, who is also a graduate of the University's McDonough School of Business. "It shows that Georgetown is a place where faculty are really willing to go the extra mile in the classroom and in a student's career."
Why invest in a housing ETF? Pettee cites four reasons:
Housing remains one of the largest asset classes in the world,
there is a growing housing shortage across the United States,
home improvement spending keeps being deferred, and
rents and housing costs continue their relentless rise.
"The need for housing doesn't seem to be going away or getting disrupted anytime soon," Pettee told dividend.com. "So we're generally bullish on the rental operators during this period of undersupply, but also believe that the supply shortages will eventually be equalized by slow but steady growth in new home construction well into the next decade."
In addition, he said, "a substantial tailwind is lifting the home improvement and home furnishing categories," with "the remarkable run of same-store sales growth at Home Depot and Lowe's" leading a trend he says is still in the "early innings."
Versatility in Investing
Unlike traditional real estate investing, HOMZ doesn't require a big monetary commitment or the months, or years, that could be needed to turn a profit. "It trades all day and is available to anyone with an online brokerage account," said Pettee, who knows of some investors who own a single $26 share. "It's fully liquid. There's no lock-up period or huge transaction costs. It's as simple as it gets when it comes to investing in real estate. HOMZ is a huge step towards our company's goal of making real estate more accessible to all investors."
But while it's attractive to younger investors and the nation's 100 million renters, the fund has a much broader appeal, Pettee told Forbes.
"Ultimately, nearly every American is affected by rising housing costs—from home improvement spending, to rents, to home financing," Pettee said. "And to the extent that housing costs are a core liability, we believe that HOMZ can be the core asset that addresses these investment needs."
Learn more