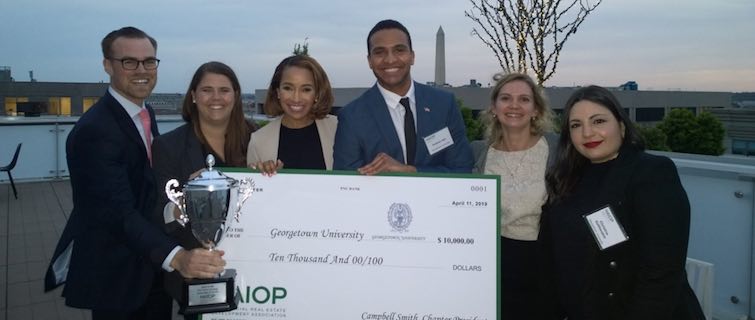 The Georgetown University Master's in Real Estate team has taken home the 2019 NAIOP Capital Challenge trophy, overcoming teams from George Mason, University of Maryland, Johns Hopkins, and American University.
The team's winning submission featured a plan for redevelopment of Fannie Mae's former headquarters at 3900 Wisconsin Avenue NW in Washington, D.C. This building is part of City Ridge, where Roadside Development is already well underway with a 1.2 million square-foot project that will incorporate 750 residential units behind and a Wegman's situated underneath the former Fannie Mae offices. NAIOP's competition focused on what to do with that original iconic building and its spacious front lawn, which Roadside promised not only to retain, but also to formally induct as a landmark.
Appealing to the Masses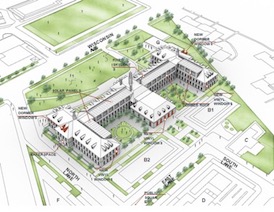 So what should be done with this building? The solution for its highest and best use is not obvious. After reviewing the D.C. office, hotel, and retail markets, along with the particular nuances of the site, Georgetown's team proposed "Cuesta Lofts"—rental apartments and ground-floor amenities targeting both empty nesters and millennials.
"Our biggest challenge was trying to craft a creative solution that appealed to Roadside Development while being mindful of the recommendations made by the Office of Planning, and incorporating the surrounding D.C. community and other various stakeholders into our redevelopment plan," said team member Christina Galifianakis.
Significant office vacancy next door, low demand drivers for hotel use, and a building significantly set back from the street argued against retail uses. However, the team saw the need for amenities and therefore proposed a "Maker Space" to augment the residential uses. They also noted that people like living in older buildings and have paid a premium to do so in comparison with newer apartments.
Georgetown's team tapped into innovative sources of financing for its submission—including historic tax credits and solar energy credits—and reconfigured sections of the building to add rentable areas and increase efficiency.
"By adding dormer roofs on the rear sections facing away from Wisconsin Avenue, we were able to create two-level loft apartments without impacting the historic façade. This also gave us a flat roof area where we could add solar panels," noted Andrew Hall, an architect by training.
A Worthwhile Commitment
Georgetown's team was coached by Tim White, an alumnus of and adjunct faculty member for the Master's in Real Estate program.
"I was lucky enough to compete in the NAIOP Capital Challenge as a student in 2013," he noted. "To be put in a real-life situation and create an actionable real estate development plan from scratch was an invaluable learning experience. I am continually impressed with the caliber of students we have in the Georgetown community and couldn't be prouder of this year's team."
In addition to a having coach, each NAIOP team is also provided with a team of professional advisors who have expertise in development, leasing, construction, architecture, engineering, and finance. Georgetown's advisors included Akridge, CBRE, Forrester, SmithGroup, ECS, and Revere Bank.
Asked about her NAIOP experiences, Nadia Shirin offered:
"For those who want to accelerate their learning curve and enhance their preparedness for the industry, I highly recommend the case competitions. While the time commitment is significant, it's worth it."
Learn more