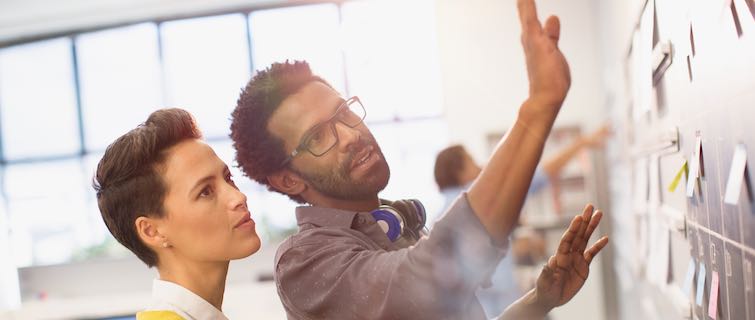 This article originally appeared on the Terrapin Consulting Blog.
The future of project management is agile, global, and data-enabled. Successful project managers must be flexible, analytical, and excel in communication and collaboration.
A Very Brief History of Project Management
For the previous 5,000 years, the project management profession was geared towards massive construction projects—from the Pyramids to the Empire State Building. However, that changed in the mid-20th century as the aerospace and defense industries produced more complex projects; as a result, project managers developed new techniques to manage the Manhattan Project and the Apollo Program. And in the 1970s, project management techniques evolved once more as computer software projects became vital to the economy.
This constant project evolution has profound impacts on the field of project management. For example, it cost millions of dollars to build and test a Saturn V rocket. To ensure the test was a success, the project was done slowly and carefully. In contrast, a software, website, or mobile application can be tested thousands of times in an hour. If something fails, it can be fixed and re-tested the same day. With the changes in project timing and costs, the older project management processes used for the Saturn V rocket are now considered too slow to succeed in business today.
Agile Project Management
In 2001, the Agile Manifesto was published. It publicized a new set of principles that valued working software, customer collaboration, and faster responses to change.
It's an ideal methodology for organizations that want to thrive in increasingly competitive environments, so it's a no-brainer that the adoption of Agile methodologies has exploded. The Project Management Institute (PMI) conducted a survey in which 71 percent of organizations said they adopted Agile approaches. Successful project managers must learn these approaches, and consider certifications such as PMI's Agile Certified Practitioner (PMI-ACP) or the Scrum Alliance's Certified Scrum Master (CSM).
Globalization
The rise in income levels throughout the world, especially in China and India, opens new challenges and opportunities for organizations, seeking to become or retain their titles as global powerhouses. Many companies already capitalized on these new markets; Boeing and Bethesda-based Marriott both earn more than half of their revenues from outside the U.S.
Even organizations that don't earn significant overseas revenue are globalizing as outsourcing continues to rise. Organizations no longer just outsource lower-wage jobs (rising global wages actually narrowed the salary gap between foreign and American workers), but also search worldwide for talent. The unemployment rate in the Washington, D.C., area is 3.4 percent, and it's even lower for high-demand occupations such as computer programmers. Many organizations now search nationally and globally to attract the talent necessary to compete.
So Much Data
Organizations are awash with data. Every device everywhere collects data and most of them are connected to the internet. Cars, refrigerators, thermostats, and scales are all connected to the internet!
Successful organizations are the ones that can mine data for insights that help them succeed. Project managers need this skill, too. Project managers must collect and analyze scope, schedule, and budget data to more efficiently deliver projects.
It's also time for project managers and project management offices (PMOs) to move toward benefit realization. Every funded project comes with a set of expected benefits. PMOs should measure to see if their projects achieve these benefits.
Successful project managers must continue to learn and adapt as the field evolves. They must be flexible to handle the constant change. They must understand the impacts of globalization and be able to manage distributed teams through effective communication and collaboration. And they must be able to analyze data in order to make project decisions that best support the strategic goals of their organization.
Learn more