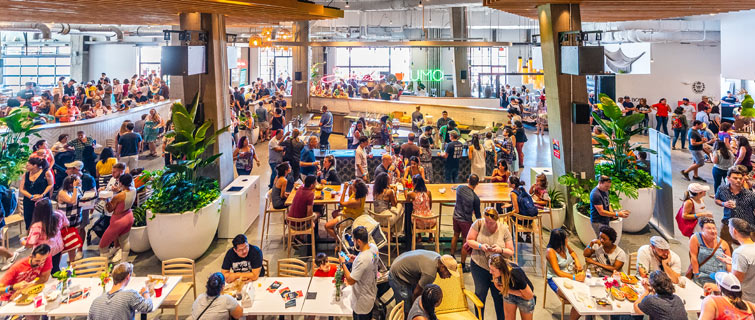 La Cosecha, the contemporary Latin market of real estate developer EDENS, sits in the heart of the nation's capital and the Union Market District in Northeast Washington, D.C. With more than a dozen businesses in over 20,000 square feet of culinary, retail, entertainment, and community space, La Cosecha—which means "the harvest" in Spanish—is a central gathering place celebrating Latin American arts, culture, and heritage.
Thousands of guests came out to celebrate the opening preview celebration in September, with a festive block party and special concert "calle latina," headlined by Grammy-winning Latin fusion band Ozomatli.
"For the ground floor marketplace, we were inspired by the plazas found throughout Latin America," says Norma Morales Perez, Senior Vice President of Brand and Culture for EDENS. "La Plaza is where the community gathers, where civic uses are, where the restaurants and shops are. Typically grounded by a cathedral or small chapel, the plaza offers a ritual experience for the community to return again and again, multiple times a week. This is also where the community's festivals and celebrations happen."
A Blending of Cultures
Because La Cosecha is a celebration of culture, the collection of offerings includes food, fashion, arts, and music. La Galería (a culinary immersion studio) and Estudio (a podcast and media studio) tell its story to the broader D.C. community. Special events on the streets and sidewalks in front of La Cosecha expand its interior footprint to activate the outside, while multiple zones within individual stores and booths maintain a greater sense of intimacy for each individual experience.
Leveraging partnerships with Latin American embassies, cultural attaches, and tastemakers, EDENS curated a thoughtful mix of retail partners that reflects the current community spirit in D.C. with names like El Cielo, La Casita, Mosaico, Ali Pacha, and more.
"We are intentionally organic, reflecting the interaction among all of the cultures present in the entire region, rather than creating a map where each country is limited to its own particular space," explains Morales, a 2011 graduate of Georgetown's Real Estate graduate program. "For example, Carolina Furukrona, owner of NOVA BOSSA, has Brazilian roots and heritage but is investing in goods by women business owners throughout all of Latin America. Her first collection features Mexican indigenous craft in a very unexpected, beautiful way. Many of our chefs are cooking with ingredients and techniques that blend many cultures, although their roots are from specific countries such as Colombia, Venezuela, and Peru."
"Like with Union Market or any other successful retail today, our goal is to build emotional engagement with our community," Morales says. "The hope is that guests who are more engaged will spend more time, and ultimately this leads to prosperity for the entire community, culturally, economically, socially, and soulfully."
A Revitalized Space
Since EDENS reopened Union Market in 2012, the surrounding area from New York Ave NE to the north and Florida Avenue to the south has continued to evolve as a magnet for people looking for more unique retail or social experiences. Major residential developments like The Edison and The Batley opened this year to welcome new residents to the Union Market District community. In addition to the new apartments, EDENS partnered with Trammell Crow Residential and Great Gulf to develop the mixed-use buildings that will offer more than 550 apartments above La Cosecha.
Having revitalized the once industrial wholesale epicenter, EDENS is excited to continue enriching the D.C. community for years to come as the Union Market District flourishes with new and diverse retail partners and creative businesses.
Learn more