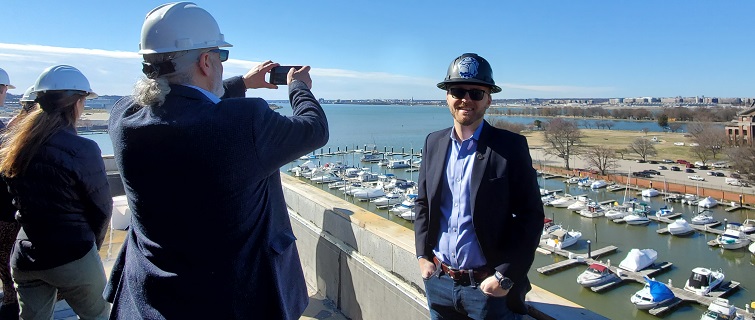 If you've lived in the metropolitan Washington area for any length of time, you've surely heard of Nationals Park (think 2019 World Series champs) and The Wharf, the architecturally stunning retail, entertainment, and office complex on the Washington Channel.
In their own, unique ways, these developments confirm that oft-repeated line from the movie "Field of Dreams": "If you build it, they will come." They'll come to a new stadium, and to a new entertainment district. And, once they've visited, many of them will want to live there as well
Now, a nearby area is experiencing the latest wave of development. It's called Buzzard Point, and if you suspect that was not named by a real estate developer, you would be right. (For the record, it was dubbed Turkey Buzzard Point sometime around 1672 and turned into a fort a century later at the direction of George Washington and Pierre L'Enfant.) But with the new Audi Stadium on one side and the Anacostia River on the other, Buzzard Point has become one of the busiest areas in the D.C. real estate market.
Two Stadiums and Water Views
"Buzzard Point offers waterfront sites and a large amount of vacant land adjacent to two stadiums in Downtown, D.C.," said Glenn Williamson, Faculty Director for the Master's in Real Estate at Georgetown University. "With the area around Nats Park on the east of South Capitol and mixed-use projects, an expansion to the west of South Capitol Street is natural."
Earlier this year, Williamson toured two rental properties in the Buzzard Point area that are under construction: Watermark Buzzard Point, a luxury, 453-unit development on the Anacostia waterfront that is being built by Douglas Development Corporation; and a public-private affordable housing venture by TM Associates that will offer 76 units in its first phase.
Coincidentally, the development managers who led the tours both have connections to Georgetown's real estate program. Drew Tuner, a Development Manager for Douglas Development, which is building Watermark, graduated in 2015; and Noah Hale, Director of Development at TM Associates, is a current student.
High-end, residential and commercial real estate has been on a tear in the Washington area for more than a decade. Now the big question is: How will the sector fare in the face of the current pandemic?
Of course, the market will be negatively affected, Williamson said, but over the long-term, it will bounce back, just as it did after the crash of 2008.
"Sure, the coronavirus will put a delay in all real estate, but real estate goes in cycles anyway," Williamson said. "We had some long-term growth in the past 10 years, and now we have a downturn. So, there will be a reorganization, then things will pick up again over time."
Brass, Glass, and Brick
Watermark is being carved out of a massive, nine-story building formerly owned by the General Services Administration. The project, whose first phase is expected to be open this summer, will include a rooftop deck and a second-floor courtyard overlooking the river. Because of the setbacks and glass surfaces that will be built into the design, about 80 percent of residents will have river views.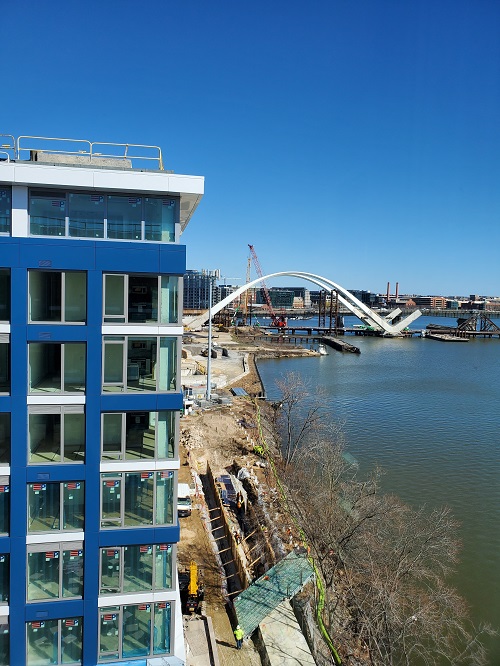 Another amenity will be Eagle Academy Public Charter School, which will serve children in grades PreK through Third Grade.
"We think it's such a great use," Turner said. "You know, everyone wants the Michelin star restaurant and the brew pub, and those are both great amenities for a building. But we really feel that new families living in our building will see the school as an amenity. It will feel like a neighborhood."
TM Associates, with the support of the D.C. Housing Finance Agency (DCHFA), recently broke ground for a state-of-the-art building at 1550 First Street, SW, that will have 76 units of affordable housing in a mix of large one, two, and four-bedroom apartments.
"We hope to offer a new style of affordable housing in D.C.—a 10-story building, with brass and glass and a substantial amount of brick," Hale said. "And we'll have a lot of the finishes you would see in a traditional market rate building, including that it will be certified to meet the LEED Silver certification."
Learn more