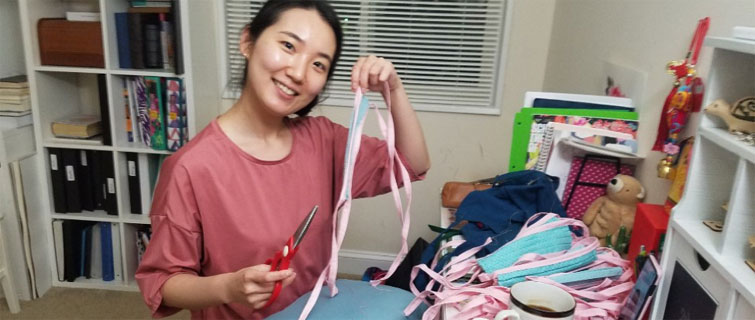 At first glance, Angelo Ioffreda and Boram "Bobo" Kim don't seem to have a lot in common, and, as far as they know, their paths have never crossed.
Ioffreda is the Chief Engagement Officer of io spark communications, a strategic communications and management company that he founded after a long career in corporate America and the U.S. State Department.
Kim is a young artist and kindergarten teacher from South Korea who, after English classes in Washington, D.C., is headed to the School of the Art Institute of Chicago to study art therapy.
There is one link that they share, however, and that is Georgetown University and its core value of "People for Others." When the coronavirus started to surge in mid-March, they, like so many others, found themselves confined to their homes and wondering how they could help.
One Goal, Many Ways to Help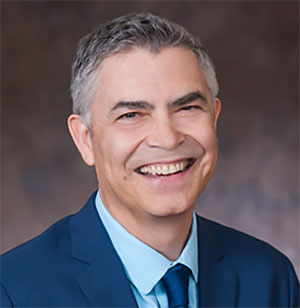 Like most everyone, Ioffreda was hearing the news this spring about workers laboring for long hours under dangerous and stressful conditions. Seeking a way to help, he talked to Lynn Screen, Managing Director of Georgetown's Institute for Transformational Leadership and put out the offer of free leadership coaching to supervisors and others who were affected.
"Initially, the concept was to reach out to healthcare workers—doctors, nurses, EMTs, people who were on the frontlines of the pandemic," said Ioffreda, a graduate of the Institute's Leadership Coaching and Organizational Consulting & Change Leadership certificate programs. "As we talked about it, it took a broader shape, and we realized that this is not a 'one-hit' crisis, but this is going to be with us for a period of time."
Meanwhile, Kim was home with her roommates in Falls Church, having just completed her studies at Georgetown's English Language Center. During her three years in the Washington, D.C., area, she had made sandwiches for homeless people and led a support group for adults with disabilities. Now she was thinking about how she might contribute too.
She and her roommates came up with the idea of making masks, which were in short supply throughout the country. They bought materials from a Falls Church fabric store and began making them at home.
"When we started making masks, our relationship and friendship became so strong and we bonded with each other," Kim told Meena Raman, a graduating senior in Georgetown's McDonough School of Business, in an article for the English Language Center.
This was no small pursuit. They worked most days from 6 p.m. to 1 a.m., and by mid-May had made 1,000 masks, which they donated to Inova Fairfax Hospital, Virginia Hospital Center, Brooklyn Hospital Center, and other medical facilities with the help of one of Kim's Georgetown professors.
Kim's work isn't finished either. After relocating to Chicago in a few months to begin the Art Institute's graduate art therapy and counseling program, she intends to keep helping out any way she can.
"If I move to Chicago in August," she said, "I want to keep making masks and helping people."
A Time 'Unlike Any Other'
As it turned out, Ioffreda received just one response from his initial offer—from a hospital worker in Indiana, whom he provided with free consulting. But he knew there was more need as well as more professional leadership coaches who would be willing to help. He put out a request for volunteers on a listserv for professionals who had attended Georgetown's leadership coaching program and soon received more than 100 offers. By mid-June, the number of potential volunteers had grown to more than 150.
Rather than offering simply a one-time response to the pandemic, the Institute, in collaboration with the ITL Network and its community of graduates, is launching a comprehensive pro bono consulting service—the Leadership Support Network —for the long-term.
"The services that we're offering are basically the skills that we teach in the Institute for Transformational Leadership," Screen said. "So, a leader might need leadership coaching. A leader might need health and wellness coaching. They might need a facilitator to facilitate some sort of discussion or gathering. Or they might need a consultant on organizational development or around diversity, equity and inclusion issues within their community or organization.
"This time is unlike any other. And, at the same time, the principles that we teach, the values that we internalize from Georgetown University are all so needed in the world right now. You know, there's no playbook for what to do next in these scenarios. What we teach and really ground our programs in is the idea that change is inevitable and that, through the process of changing, we can create a new and a better future."