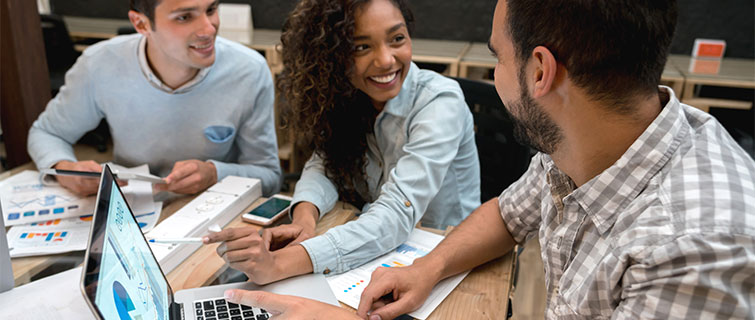 How can you use digital marketing to promote your business, organization, or brand?
Perhaps you've created a great Facebook page and spent a lot of time and energy getting people to "like" it. You've posted on a variety of social media as often as possible. You're plugging away at these activities, reaching out to the public, and hoping that your enterprise will be a success.
Will it? Well, maybe. But, while doing these things can be valuable, pursuing any or all of them without a comprehensive and well-researched strategy probably won't increase your odds of success.
"If you're a business, you have to have a strategy for digital marketing," Shashi Bellamkonda, Vice President of Marketing for Leap, a company that provides digital sales applications for the home services industry. "How do you deploy these tools? How do you achieve your business objectives? How do you calculate the return on investment of the time and expenses you spent on it?"
Bellamkonda explores these and other questions in a new, 12-week certificate program at Georgetown University's School of Continuing Studies called the Digital Marketing Strategy Bootcamp.
'Hands-on Knowledge'
Why bootcamp?
"By definition, a boot camp is where you not only learn new techniques and tools. You also gain hands-on knowledge that you can implement in your day-to-day job," Bellamkonda said. "Or, if you want to acquire skills for a new job, a boot camp can be very helpful."
Three kinds of students take the online class, Bellamkonda said. One group consists of those who are already working in the field and feel they need a refresher course. (This is particularly important because, according to Bellamkonda, the field looks vastly different today than it did five years ago and will surely look different five years in the future.) A second group includes students who are thinking about moving into the field. And a third group comprises international students, with varying levels of experience, who are interested in receiving this kind of training in the United States.
Questioning Assumptions
The course begins with an in-depth exploration of the myriad biases we all have that can lead to errors in judgment and choices—for example, assuming something about your target audience that might seem logical but is not true. This is no small problem. According to WIRED magazine and Deloitte Digital, while 44 percent of companies have a digital-first approach for communicating with clients, more than half of customers say businesses aren't providing the customer experiences they want.
Next, the Georgetown program explores subjects such as critical thinking, innovation and design thinking, cognitive flexibility, and ethics and values. Students also receive career coaching, virtually attend information sessions with employers, and hear Georgetown alumni share career development topics in their industry as well as best practices for career growth.
In addition to improving the kind of soft skills that are essential to career success, students learn technical skills such as developing multi-channel skills and strategies, deploying current digital marketing tools, and calculating the return on investment of digital marketing efforts.
"Digital marketing is ever changing," said Bellamkonda, who has studied the evolution of sites like Facebook and Instagram and predicted several years ago that podcasts would become the wildly popular phenomenon they are today. "I have to spend a lot of time researching, and one of the best compliments I've gotten from some of my students at Georgetown is they say I'm one of the few people older than them who seems to know more about these things."
Learn more