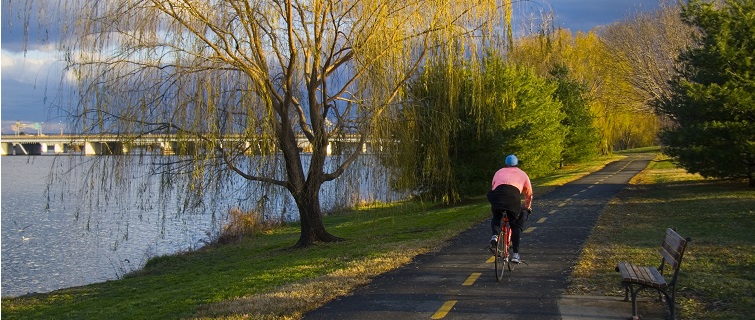 Search the internet for "Best Biking Cities in the U.S.," and Washington, D.C., will likely appear in the top 10 of most sites.
It's easy to see why. Each weekday, thousands of commuters bike to jobs in the region; and then, on the weekends, they and fellow residents enjoy some of the most picturesque settings in the nation by riding their bikes on dedicated trails that crisscross metropolitan Washington.
Assuming, that is, that they live in a place where they can get to those trails safely.
"If we want to get people from across our region onto our trails, we have to give them a safe way to get there," said Andrew Grinberg, a second-year student in the Georgetown University Master's in Urban & Regional Planning.
Today, that is often not the case. According to a recent report—authored by seven urban planning graduate students participating in Georgetown's planning studio—those thousands who commute to work along city streets, while not insignificant, represent just 1.2 percent of workers in the region. And one reason there aren't more is probably obvious to anyone who has witnessed the ongoing (and at times harrowing) competition for road space between bicycle and car: Often, for the cyclist, it's just not safe.
The Goal: a National Model for Regional Bicycle Mobility
Why are cities like Copenhagen, Amsterdam, Seville, and Bogota more aggressive in building out their bicycle infrastructure than our nation's capital city? Of the 332 miles of on-street bike lanes in Washington, D.C., the report says, only about 10 miles are physically separated or otherwise protected from cars. Regionally, while the city has several multi-use bike trails—such as the Capital Crescent, Metropolitan Branch, and Anacostia River trails—these trails do not yet connect to each other in a way that would form a true metropolitan trail system.
The report, written for the Capital Trails Coalition, is titled, "The 6 Spokes: Making DC a World Class Bike Region." The "six spokes" focus on on-street bike lanes, a regional trail network, urban placemaking, trail-oriented urban development, new transportation policy initiatives, and the development of a stronger "bike culture" across diverse communities.
"We are so excited by what the students have advanced in this studio. We truly believe D.C. can become a national model for a world-class trail network for walking and biking infrastructure," commented Liz Thorstensen, Vice President of Trail Development at Rails-to-Trails Conservancy and Chair of the Capital Trails Coalition.
"We envision a radically different network of protected bike lanes for the D.C. region," said Grinberg. "We want readers to visualize what it's like, how easy it is to cruise down a curb-separated bike lane. There's no threat of cars hitting you. You can ride slowly. You don't have to sweat, and you will arrive safely at your destination."
What will it take to have a fully integrated network of local bike lanes and regional trails? According to the report, it will mean taking a hard look at our car-dependent culture and assembling a broad-based coalition that can envision (and fight for) something better. "One or two advocacy organizations cannot do this on their own. We need a groundswell; a broad coalition of diverse voices," observes fellow student and co-author Shayna Goldsmith.
It will also require the region's transportation planning agencies to acknowledge and confront some stark transportation inequities, which tend to divide along racial and income lines. The report notes, for example, that there are no protected bike lanes or regional trails connecting into communities in Prince George's County, a majority Black county with more than 900,000 residents.
A Time Like None Other
With the pandemic, widespread economic hardship, and a renewed emphasis to explore social disparities and structural racism in cities, 2020 is a turning point in how communities reflect on urban life. But these crises and the need to confront them have also created opportunities. Stay-at-home orders last spring were a hardship for many, but they gave residents of Washington and other urban areas a glimpse of what less car-dependent cities might look like, with clearer skies, less-congested roads, and quieter neighborhoods.
Also, this year more people started buying bikes. According to a recent survey, U.S. bike sales were up 65 percent over year-to-date data from 2019, and 9 percent of adults said they had ridden a bike for the first time since the pandemic shifted everyone's daily habits.
However, no amount of new ridership can transform a city's transportation landscape if whole neighborhoods are excluded—a point emphasized repeatedly in the students' report. Likewise, simply building bike lanes and trails will be insufficient without creating new bike-friendly destinations, involving regional stakeholders, promoting an inclusive biking culture, and pushing aggressively for political change.
"We want to see bikes become a more competitive modality," said co-author Shayna Goldsmith. "We hear, 'If you build it, they will come,' but we think we can build it and also give people a reason to come and a reason to feel proud of it—and to celebrate it."
"This is a moment to recalibrate what we want our city's streets and our region's trails to do for us. Since the pandemic, we have seen other cities in our peer group—such as London, Paris, and New York—take big, bold actions to promote biking and walking," observed Uwe Brandes, faculty director of the Urban & Regional Planning program and advisor to the students. "Very soon, it will become clear that non-motorized mobility is a foundational element of our region's economic development strategy, not just a 'nice-to-have' quality of life issue."
Learn more