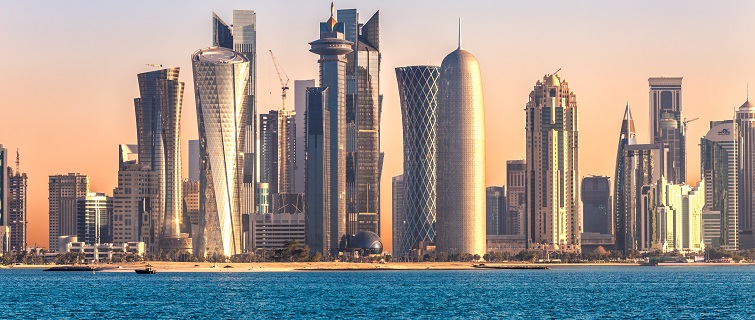 For someone barely 18 months out of graduate school, Farukh Azad has a lot on his plate.
Azad works at Hamad Medical Corporation in Doha, Qatar, where he is Assistant Executive Director for Business Development and director of the Emergency Department's Medical Toxicology Division. But those titles don't begin to describe the breadth of his responsibilities.
A 2019 graduate of Georgetown University's International Executive Master's in Emergency & Disaster Management program, Azad runs the Qatar National Toxicology Program, which responds to everything from overdoses and snake poisonings to mass casualty incidents relating to toxicology. In addition, he is assembling medical staff to prepare for potential emergencies associated with the 2022 FIFA World Cup, which is expected to attract more than one million fans to the Persian Gulf nation.
And, in perhaps his most pressing assignment of all, since the start of the pandemic, he has been leading an effort to develop a universal app called Kashif, to expedite and ensure the accuracy of COVID-19 swab data.
"He's very well-connected and has a sophisticated understanding of what needs to be done," said Tim Frazier, Ph.D., Faculty Director of Georgetown's Emergency & Disaster Management programs. "He's working really nicely with the [Qatar] Ministry of Public Health, taking advantage of the things he learned in our program to help them with their COVID response and recovery."
An Impact on the Field
While the range of Azad's responsibilities might be unusual, his level of expertise and outsized influence in the field is not uncommon for graduates of the yearlong program, which sends students to residencies in the United States, Europe, and the Middle East. About 75 percent of these mostly mid-career professionals come from the Middle East, with the United States, Mexico, and other countries also represented.
Alyaa Al-Mannai, a fellow Qatari and 2020 program graduate, heads the training division for the offices of the Deputy Prime Minister and Minister of State Defense Affairs. Her office develops emergency and disaster training for the military as well as security preparations for the World Cup. She said that Georgetown programs increased her knowledge by focusing on real-world solutions to global challenges.
"We could work and learn theoretically, and, at the same time, look at what was going on in the world and apply our perspective," Al-Mannai said.
Al-Mannai wrote her Georgetown thesis, or Capstone, on preparing for potential refugee challenges in Qatar and developed a framework that can be used in Qatar and surrounding countries.
A Wealth of Resources
Azad's year in the program took him to Washington, D.C.; Paris, France; Oman, Jordan; and back home to Doha at Georgetown University's campus in Qatar.
Due to the pandemic, the current cohort of students in the program is all-virtual because of the pandemic. While Frazier is disappointed that students are not able to travel to France to meet with officials from INTERPOL (the International Criminal Police Organization) and study the refugee situation in Jordan, he said the virtual environment allows the class to hold meetings in real-time with leaders in the field from all over the world. This has worked out so well, in fact, that virtual sessions have been added to the 2021-2022 cohort, which begins in Washington, D.C., in September and is slated for subsequent residencies in Muscat, Oman; Paris; Amman; and Doha.
"Our best recruiters are our students," said Frazier, who added that they often advance in their fields soon after graduation. "They're so supportive of the program. They leave feeling that they're part of a bigger family and that they have resources, in terms of people, who they can call up for the rest of their careers."
Learn more