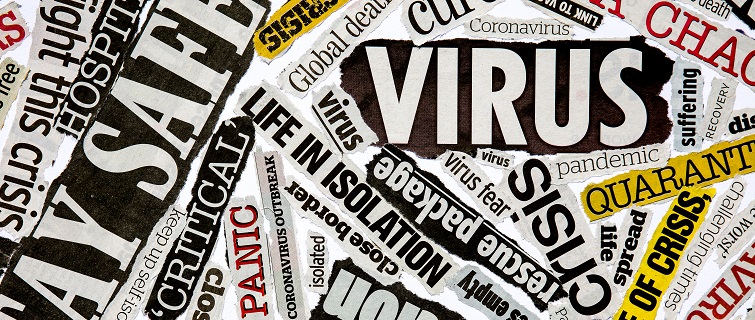 In a more perfect world, people might actually thank Chelsey Cox, a "USA Today" fact-checker, for telling them that the post they shared on Instagram or Facebook—the one about the COVID vaccine being laced with microchips that the government can use to track their every movement—is not true. They would praise her for her hard work and professionalism and be grateful that at least one frightening scenario, in a worrisome world filled with so many, would not come to pass.
But, of course, that hasn't happened. Only one person over the past eight months has even offered to remove a false post. And many others, if they deem to talk to her at all, are anything but thankful.
"Some people say that I'm lying. They say I'm a disinformation spreader," said Cox, a 2020 graduate of the Georgetown University Master's in Journalism degree program. "I get called all kinds of names—you know, that's the life of a reporter, especially a black female reporter. We get called names all the time."
Truth and Fiction
Regardless of a journalist's beat or medium, to be a reporter within the past year is to be a COVID reporter. The virus is all-encompassing; it impacts all aspects of life, including the working lives of recent Journalism graduates.
Broadly put, the challenge is both too little information—because COVID itself is hard to define and quantify—and too much misinformation or outright lies.
Cox deals with the latter problem. Her job at "USA Today"—supported by a grant from Facebook and Instagram—is to examine internet posts that have been flagged as false. For example, she researched an inaccurate claim that COVID-19 is less deadly than both the 1918 Spanish flu and the seasonal flu. After consulting several Centers for Disease Control sites, she reported that COVID-19 is about as lethal as the Spanish flu and more deadly than the seasonal flu.
Often, a post will contain just enough truth to convince some people. For example, even the claim about the government tracking people through vaccines contained a shred of truth. The vaccines can, indeed, be equipped with an RFID chip on the outside of the container, which lets health authorities know how many people have been vaccinated in coronavirus hotspots. But the chips are not "injected" into people and do not contain personal information.
For some, Cox said, it may be more comforting to spin stories based on incomplete facts than confront a pandemic whose future is unknown.
"I think that the real world is so scary for some people that they cling to this thing that is so irrational," Cox said. "Then they have some sort of control over what's uncontrollable."
An Industry at the Crossroads
"Write what you know," is advice often given to fiction writers, but it applies to Journalism graduate James Jarvis as well.
In the spring of 2020, he saw there was little reporting about COVID's impact on local theater companies, so he decided to research the issue for his final project, or Capstone. He knew, of course, that theaters were closed, but he wanted to learn how the companies were faring financially and their chances for surviving in the long term.
He had more than a professional interest. Jarvis had been an actor in the past, and had even considered going to a conservatory. Plus, his girlfriend is an actress, having recently graduated from American University with a bachelor's degree in fine arts.
"It was personal for me because it's a community I've been a part of," said Jarvis, whose story was published in the Washington City Paper. "It affected people I was very close to, and a lot of people were talking about it."
Like other sectors of the economy, theater companies are hurting. And, like other sectors, the ones that were less resourced going into the pandemic are more likely to fail, a scenario that would affect actors, directors, playwrights, stage crews, and the theater-going public—everyone with a stake in making the Washington region a theater hub.
"At some point, when they run out of unemployment or they run out of grants, they're going to have to find other work," Jarvis said of people in the industry, especially those with families. "They're thinking seriously about transitioning out of the industry."
Uncertainty and Fear
We've all said it—or something like it. But just because it's become an easy, go-to metaphor for our COVID-centric lives doesn't make it right.
"I think I heard at least a couple of friends, or contacts, or people on social media refer to being locked in their houses as being in a prison," said Journalism graduate Kirk Sullivan. "I wanted to flip that on its head a little bit to say, 'Okay, what actually is it like in a prison during a pandemic?'"
Getting access to a prison was practically impossible during the pandemic, so Sullivan focused his Capstone on the DC Jail, and even that was difficult. So, he tried to meet inmates through the Free Minds Book Club & Writing Workshop, which holds readings of works written by inmates.
Through the nonprofit, he was able to contact defense lawyers, who helped him reach out to two inmates: one who is currently in the jail and another who would be released in May 2020 after his attorney cited his medical condition and vulnerability to the virus. He had been incarcerated for 24 years.
In the confined quarters of the jail, the coronavirus spread at seven times the rate of the District as a whole. To stem the outbreak, the jail responded by imposing a lockdown for several weeks, meaning that inmates could rarely leave their cells or shower regularly. Sullivan said that one attorney feared "the jail residents would be very cautious to report their symptoms because they didn't want to go to the horrible isolation units."
But one inmate Sullivan interviewed believed the jail's initial response was necessary to protect the inmates.
"There's only so many things you can do for us," he said. "The measures seem punitive, but they are required to contain the virus."
On April 19, a judge ordered the city to improve conditions at the jail. By then, Sullivan said, "90 residents had tested positive, 40 were in isolation," and one had died.
"What an eye-opening experience it was for me to hear directly from them what they've been through during the pandemic, the uncertainty and fear that they felt," said Sullivan, a Public Affairs Officer for the Canadian Armed Forces, based at the Embassy of Canada. "I had to adapt to doing shoe-leather journalism in a different way because of the pandemic."
Learn more