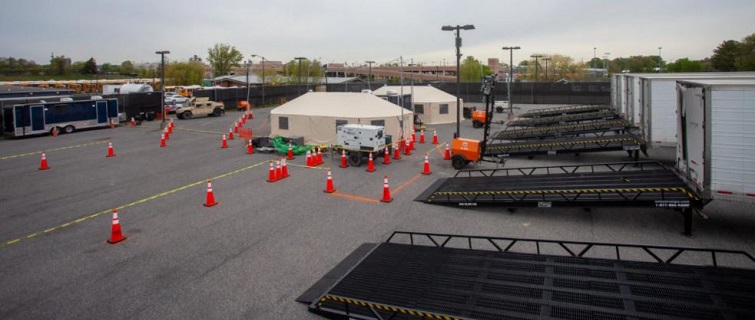 The original plan didn't call for religious leaders to visit and offer prayers. But after weeks of supervising the construction of a secret morgue on a vacant, city-owned parking lot, Donell Harvin felt that he and his crew needed some kind of transition before they began receiving the victims of COVID-19.
It would be a kind of consecration of the site, said Harvin, DrPH, Chief of Homeland Security and Intelligence for the District of Columbia, and a realization that the "world would be watching," witnessing the results of their work "whether they see us or not."
The brief prayer service on April 21, 2020 is recalled in an extraordinary "Washingtonian" article describing how District employees and volunteers set up the facility to handle the overflow from a city morgue that had space for just 205 bodies. City officials had seen the horror that had befallen New York, as hospitals and funeral homes ran out of space for bodies and the city resorted to makeshift morgues whose activities were filmed by news media and curious passersby.
Harvin and Dr. Roger Mitchell, Washington's Chief Medical Examiner, wanted to avoid that spectacle and the trauma it had caused for families of the deceased, so the decision was made to build the temporary morgue in secret.
A Reflection of Society's Values
For Harvin, an expert on public health disasters who teaches in Georgetown University's Master's in Emergency & Disaster Management program, decisions about how to care for the dead are more than a matter of logistics and public health.
"How a society treats its deceased is a reflection on how advanced a society is," said Harvin, who includes a segment on fatality management in his public health emergencies course.
All of Georgetown's professional master's degree programs include a foundational course on ethics. The subject is relevant for all professionals, but it is particularly appropriate for those who choose emergency management and will be dealing regularly with people in crisis.
"If we don't teach ethics, if we're just technical—you can go any place to get that type of discussion, that type of knowledge," Harvin said. "But when you go to Georgetown, you're getting a holistic view of what it means to be engaged in these enterprises."
A Secret Till the End
As a young paramedic for the New York Fire Department, Harvin responded to the 911 attack on the World Trade Center. Later, as a deputy director for the New York medical examiner, he coordinated efforts to identify victims of Hurricane Sandy.
But the work at the new city morgue was even more taxing mentally, with Harvin often putting in 12-hour days at the site. The hard work and difficult emotions took a toll on the workers and volunteers, as did the fear, because early in the pandemic it was not known if the virus could be readily transmitted from the bodies of victims.
Workers at the site ended up caring for the bodies of 404 Covid victims before the pandemic subsided and the facility could be closed. They kept its location—indeed, its very existence—a secret till the end.
"As much as anything else … the silence reflects the personal ethos of those who perform this work for a living," wrote Washingtonian Senior Writer Luke Mullins. "While they're dispatched to every hurricane and school shooting, their efforts take place entirely behind the scenes. They are the first responders you never see."
Learn more