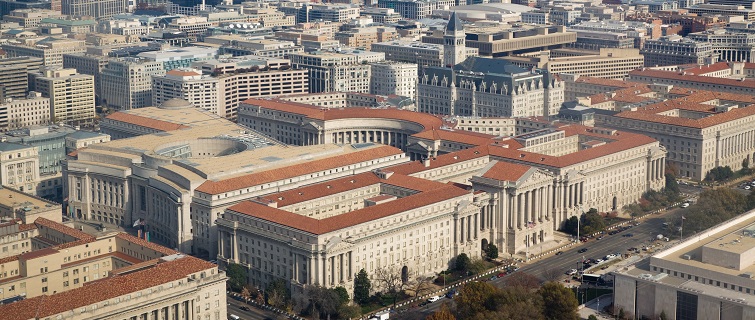 If you had driven through Washington, D.C.'s downtown during the winter months of the COVID-19 pandemic, right when the sun was just setting and the streetlights were popping on, you might have remembered that time of day that we used to call, "rush hour."
Yes, you would have seen a few people on the sidewalks, but far fewer than before the pandemic, and those solitary pedestrians, seemingly isolated and bundled against the cold, would have hardly conjured images of "community."
But now spring has arrived, people are getting vaccinated, and businesses are opening up again. Are downtown Washington and other central business districts primed to become the canvas for a new urban renaissance, a new era that will embody the kind of livable cities that feature a new suite of information technologies and human-centered behaviors?
The consensus among urban planning experts: Yes, but the market rebound will be spotty, and it will take some time.
"It's going to be a slow recovery. I don't think real estate markets are going to boom back," said Richard Bradley, the founder of the Downtown DC Business Improvement District and faculty member in the Georgetown Master's in Urban & Regional Planning program. "Behaviors have been reset on the part of a lot of people."
Beyond Office Space
The biggest behavioral change, of course, is that the vast majority of office workers have been working from home for over a year and—when pandemic-related public health guidelines ease—many workers will choose to do at least part of their work from home. That will mean less of a demand for downtown office space and more of a need to convert and redesign existing buildings for entirely new uses—especially residential.
By January 2021, the commercial office vacancy rate in the Washington market had reached 14 percent, the highest ever recorded in the region, according to CoStar Analytics. "A market that is solely dependent on office space is going to have a tough time," said Leila Batties, zoning attorney at the law firm Holland & Knight and faculty member for the Urban & Regional Planning program.
The opportunities for renewed development will depend on many factors, including the price point of real estate markets and the flexibility of local regulatory frameworks, Batties said, with the advantage going to those downtown places that can attract a mix of residential and business development.
"Downtowns that have the opportunity to bring in residential development may have a head start in terms of creating vibrant downtowns after the pandemic," said Batties.
The goal is to foster dense urban communities where people not only want to work and live, but also have the chance to thrive. Often called "placemaking," it is described by the Project for Public Spaces as "a collaborative process by which we can shape our public realm in order to maximize shared value." Georgetown's Urban & Regional Planning program has created The Place Leadership Project, a community-based research project that has partnered with 70 organizations that are involved in creating and managing these kinds of urban districts and public destinations.
The Need for Local Engagement
While creating more vibrant living and working spaces is a sound goal, there are two issues that will complicate this process as business districts recover from COVID-19.
One is that downtown Washington will find itself competing for residents and businesses with other business districts that are redefining their own community hubs, places like Silver Spring, Crystal City, Reston, and Tysons Corner. Despite the well-documented migration of young professionals to center cities, the overall national trend continues to be one of dispersion, Bradley said, and there will not be enough market activity, at least in the near term, to create vibrant spaces everywhere.
"We're going to have this intensive competition, all of which is setting the stage for a kind of revisiting of the underlying purposes and the functioning of a downtown," Bradley said.
The second issue is that the playing field for this competition is not level. It's tough to even get in the game if your downtown lacks attractive amenities such as parks, transit, museums, or a critical mass of adequate mixed-income housing.
"From a public policy point of view, the good news today is that there's a lot of attention now given to inclusive communities," Bradley said. "There's just a huge recognition everywhere about the importance of diverse and mixed-income communities."
What Downtowns Have to Offer
Downtown Washington, like cities everywhere, took a huge hit with the pandemic. But as the weather warmed and once-shuttered businesses and entertainment venues started to reopen, there is a renewed sense of what the downtown has to offer and will soon be offering again.
Upon recently seeing people and cars lined up to enter the Kennedy Center, Bradley remembers telling himself, "Oh, this is why I live in the city." He paused. "It's clear that that value is still here, values of proximity and intensity and the kind of entertainment that the city offers. I think that's there, and it will be there forever."
Learn more