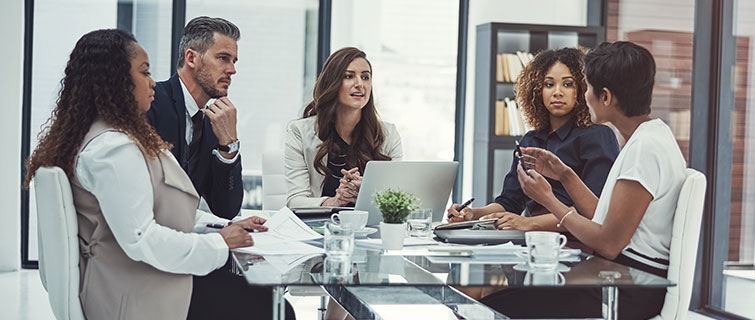 Maria Kelts is the Head of Enterprise Diversity, Inclusion & Belonging, at Capital One Financial, but she doesn't rely on diversity training to make workplaces more equitable and welcoming.
"Diversity training is not a stand-alone solution, and many challenge its effectiveness in organizations," Kelts says. "I would also focus on creating fair, equitable, and transparent people processes that are sustainable" and encompass the entire employee lifecycle, from the time they are recruited till when they say good-bye.
Because, as she explains, if people "leave your organization with a pervasive feeling of inclusion," they will promote it as a great place to work or be a long-term customer.
An Increasing Demand
This distinction—between relatively narrow diversity training and a more holistic approach—also applies to Kelts' other position as an instructor in the Executive Certificate in Diversity, Equity, & Inclusion program at Georgetown University. Led by academics and experienced practitioners, the certificate emphasizes the best practices and latest academic research in cultural competency and diversity, equity, and inclusion (DEI).
"The course is experiential in nature and is built on the foundation of understanding oneself through the identities one holds and acknowledging oneself as a change agent," Kelts says. "Knowing how you walk through the world allows you to more effectively analyze, diagnose, and address DEI issues in the workplace and beyond."
Many practitioners in her field "are absolutely exhausted right now," Kelts says. Certainly, the pandemic's outsized impact on underrepresented groups and a heightened focus on racial justice have compelled corporations to initiate, or reinvest in, programs to address inequities. But this investment is also part of a broader trend of corporate commitment to DEI. The demand for qualified practitioners has grown dramatically, with LinkedIn data showing a 71 percent increase in worldwide DEI positions over the past five years.
Universities have also responded.
"We're at capacity every quarter," Kelts says of Georgetown's DEI certificate program, which includes six intensive courses that must be completed within six months. "The demand has enabled us to be selective with those who apply. It is highly competitive." Admissions officers "are looking for individuals who are open to learning through non-traditional methods and embracing a cohort experience."
A Well-Documented Advantage
The business case for diversity has been demonstrated repeatedly in recent years: Simply put, diverse, inclusive, and equitable companies are more profitable. According to MarketWatch: "Diverse companies are 70 percent more likely to capture new markets than organizations that do not actively recruit and support talent from under-represented groups."
This statistic makes particular sense when considering the kind of out-of-the-box thinking that is required for innovation: Is this more likely to come from a group with similar backgrounds, mindsets, and experiences, or a group with more diverse ones? The answer is self-evident. In addition, forward-thinking companies are more focused on addressing inclusivity, fairness, and social responsibility—and in attracting talented prospects who prioritize these values when choosing a job.
"Diversity is an absolute reality," Kelts says. "One cannot argue with the changing composition of the United States. In addition to being inclusive of differences, and providing your employees with role clarity, a belief that they are being fairly invested in and rewarded is essential in enhancing a feeling of belonging that leads to greater engagement and outcomes."
A Quest for Self-Knowledge
Georgetown's program generally attracts three kinds of students, Kelts says. They include: people who have been tasked by their organizations to implement a DEI program; those already in the field who want to learn new skills; and others who are "generally interested in DEI as a field of study."
Early in the program, students engage in a personal inquiry designed to increase their self-knowledge. "It's very important that you develop a level of awareness around self—how you experience the world and how that peppers and flavors your interactions with others—and really have clarity on that piece first," Kelts says. "And then you can dive into, for example, understanding how to address systemic inequities in systems at the individual, organizational, and societal levels."
Kelts says the benefits of this kind of experience go beyond one's working life.
"Not everybody who completes the certificate program is going to work in a DEI position, nor should they," Kelts says. "One of our students shared that this program provided them with tools to transform every space they enter. The cohort experience is a unique opportunity to build a network of support as one moves forward with their DEI journey. We know our sphere of influence extends beyond our workplace, including our friends, family, and community."
Learn more