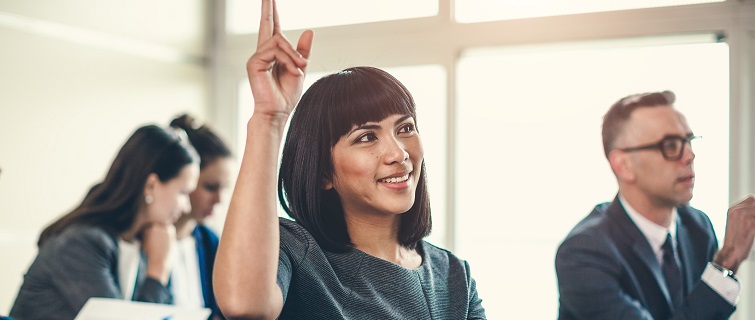 What does it take to succeed in a career?
It takes the core skills needed for the job, of course. But, increasingly, employers are also looking for "competencies," qualities such as the ability to see the big picture, think through complex problems, work in teams, and plan for an uncertain future.
Recently, an instructional team from Georgetown University's professional development and certificate programs looked at job listings on Indeed and LinkedIn, as well as key competencies cited by the World Economic Forum. They noted repeated use of words like "analysis," "critical thinking," and "cognitive flexibility"—qualities that go beyond the usual definition of "skills."
The team wanted to ensure that the university's bootcamps—short, intensive programs in subjects ranging from Digital Marketing Strategy to Data Analytics—were preparing students for emerging job markets.
A Personalized Approach
In addition to teaching skills and competencies, the bootcamps link students with a full-time career advisor who provides ongoing individual guidance and a complete package of career-building tools. This approach also follows one of Georgetown's foundational tenets, cura personalis, which translates as "care of the whole person."
As applied to the bootcamp programs, cura personalis attests that the university is responsible for not only teaching skills and competencies, as important as they are, but also for teaching them to individuals from diverse backgrounds, with unique strengths, weaknesses, personalities, and goals.
"As a university, we are constantly evaluating, constantly talking with our students, constantly researching the job market," says Jeffrey Warner, senior director of professional development and certificates. "We are evolving because, at the end of the day, we want to offer the most current curriculum and services to our students so they have a competitive edge."
Each bootcamp consists of three bundled components designed to be taken concurrently within a single semester. These components are: a course in "hard skills"; an optional course called "Thinking to Thrive," which integrates these skills within frameworks, strategies, and techniques to enhance critical thinking, design thinking, ethics, judgment and other core competencies; and an optional component in integrated career development. After successfully completing the program, the student is awarded a Georgetown University certificate.
'Flexibility and Speed'
In Fall 2021, the university is offering the Digital Marketing Strategy and Data Analytics bootcamps. Each is 12 weeks long and meets online on successive Friday evenings and Saturdays. Students will participate in live online lectures, discussions, and collaborative activities involving faculty and students. The classes are small to facilitate highly interactive and engaged learning.
In January 2022, the university will offer a six-week bootcamp in Finance for Non-Financial Managers, and in February it will debut a 10-week program called Business Essentials for Successful Managers.
"The main benefits of the bootcamps are flexibility and speed of knowledge acquisition," says Lawrence Gray, Ph.D., Head of Data Science at KPMG Spark, who designed the Data Analytics Bootcamp and teaches the program. "Students need a way to advance their careers or transition into another without devoting enormous amounts of time and effort. Our typical candidate in the Data Analytics Bootcamp is fully employed and only has a few hours each week to upskill. Furthermore, the students do not want to wait six months to use any newly learned skills."
Aligning Goals and Strategy
For the career development component, Lindsey Thomas, director of Integrated Career Development for the programs, invites employers to make presentations and conduct one-on-one informational interviews for positions they have available. Thomas also leads brief "skills-building" workshops on topics like networking, resume-writing, and virtual interview strategies.
Finally, Thomas meets regularly, one-on-one, with interested students to help them align their career strategy and goals.
"I meet with them to go over their background, what unique skills and experiences they're bringing to a job, what they're learning in the certificate program, and where they hope to go," Thomas says. "Then, we'll create a plan, and I'll help them with their LinkedIn profiles, their resume, and cover letters to kind of craft their narrative around how it all fits together—particularly for those students who are looking to make a career change."
Learn more