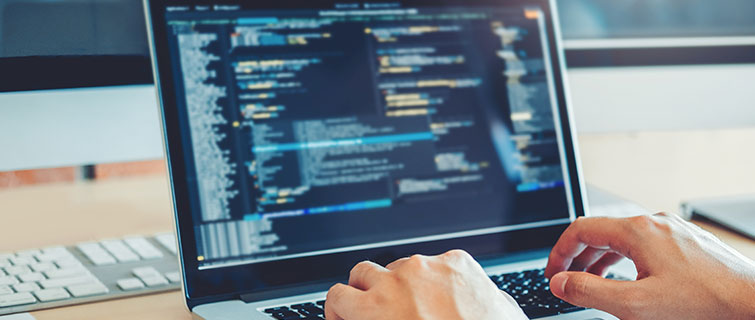 We often talk about change today in pejorative terms, and with good reason. Just think of the phrase "climate change" or google "the great acceleration," which refers to a host of processes and trends that have accelerated exponentially as a result of human activity, most of them—from water use to ozone emissions—not good.
But there is a flip slide to all this negative change, one that is as dramatic, in its own way, as the dire warnings of the great acceleration: scientific advances are also accelerating, and much of this has been made possible by big data and the emerge of tools, like machine learning, that have made things like cheaper electric cars, more efficient solar panels, and the swift development of the COVID-19 vaccine possible.
This is the kind of change that Lawrence Gray, Ph.D., is focused on, and it animates his work as both Head of Data Science for the cloud-based managed accounting service KPMG Spark, and an instructor in the Data Analytics Bootcamp program at Georgetown University, which he designed.
"Everything's changing so rapidly that the tools you're learning today—three or four years from now, they're going to change, and it's going to make life a lot easier," Gray says. "You're going to be able to do more powerful things, and that I find fascinating."
'Insights' and 'Decision-Making'
Georgetown's 12-week Data Analytics Bootcamp provides students with a solid foundation in data analytics that begins with the study of SQL and Python. Each bootcamp consists of three bundled components: a course in "hard skills"; an optional course called "Thinking to Thrive," which combines these skills in ways that enhance critical thinking, ethics, judgment, and other core competencies; and an optional component that links students with a full-time career advisor who provides ongoing guidance and a complete package of career-building tools.
For the Certificate in Data Science—a cohort program consisting of eight courses over six months—students use Python and industry standard tools to create and present data analytics, predictive models, and visualizations. Students learn to ingest and wrangle data for deeper insights, and organize statistical hypothesis testing and analysis. And they hone their communication skills and learn strategies for effective data presentation.
The University also offers a Certificate in Advanced Data Science for professionals who already have experience in the field. This program integrates the latest advances in data engineering, visualization, machine learning, and the ethical use of artificial intelligence. Unlike the regular data science certificate program, students can join the advanced program at various times throughout the year.
"The primary product of data analytics is insights," says Benjamin Bengfort, Ph.D., program director for the data science programs. "The primary outcome of data science is data-driven decision-making—usually at the strategic level."
A Smart Move
Gray, the sole data scientist at his company, says that most businesses will want to focus initially on hiring data analysts. "When you have a preponderance of data, you first need to understand how the current operation is going before you can start making predictions about the future," he says.
But there is also significant overlap between the two disciplines, he notes, and professionals who excel in data analytics can move into the predictive world of data science, if that is where their interests lie.
"What's unique about Georgetown is that a student who comes in for the data analyst program, with minimal experience in computing, can learn the core skills and make a transition out of that program and into the data science program," Gray says. "Using the data analytics program as a conduit to data science is a very smart move, and they will be more than well-prepared to enter the data science certificate program."
Learn more